Understanding the science of carbohydrates
Listen to my QR77 Radio Program here
Every monday at 4:15pm on QR77 Radio join me and Angela Kokott host of Calgary Today with our segment "You are what you eat" to get the goods on healthy eating.  If you missed my segments I will be archiving these audio discussions on my blog here.
Episode 7: Understanding carbohydrates
There is still plenty of confusion around carbohydrates
Where do we get carbs?  Grains/starches, veggies, fruits, sweets, milk/yogurt
Why do we need carbs?  Our muscles need carbs for "gasoline" but more importantly our brain runs EXCLUSIVELY on carbs.
Consider this….  After a long, stressful day what are you craving?   You may be looking for comfort foods such as chocolate, bread, pasta, baked good or potato chips because your brain knows when you eat them the boost mood and elevate serotonin the brain chemical that increases mood.
Without carbs how do you feel?  You need carbs for brain satisfaction.  Without it you might feel tired, unsatisfied and over the long term depleted, anxious, depressed, have difficulty concentrating and become obsessive about food.
How many grams of carb does your brain need per day?  As a start, your brain/central nervous system requires about 100 grams of carbohydrate per day regardless of your age, gender, activity level.  This is the amount in a few slices of bread, a cup of rice and a few pieces of fruit.  In addition to this you require more carbs for physical activity.  The more active you are the more carbs you need.  Nutrition research suggests 45-55% of total calories should come from carbohydrate.
What about low carb diets for weight loss?  Be aware that 1 g carb stores 3 g water on the body therefore if following a low carb diet you will lose water weight.  The only way to lose true weight is through a caloric deficit in general by eating less of either carbs, protein OR fat calories in general.  If you follow a low carb diet but just swap the reduced carbohydrate calories for protein and fat calories, you won't lose true weight, just fluid weight.
Portion sizes are important While some people eat too many sweets and starchy foods and need to watch portion sizes, carbohydrate is an essential nutrient that should not be avoided.
Can't I just get my carbs from fruits and veggies and skip grains?  While some people believe they can achieve good health without grains/starchy foods, you may be able to achieve enough carbohydrate from eating fruits and veggies but be aware that the vitamins, minerals and phytonutrients are different in foods which is why Health Canada and health organizations worldwide recommend consuming grains – ideally at least half or more as whole grains.  Also much of the reason we eat is for enjoyment which for most people likely includes grains.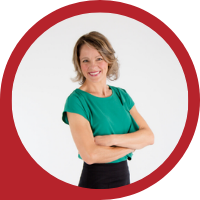 About Andrea Holwegner
CEO, Registered Dietitian, Counseling Practice Director & Professional Speaker
Andrea the «Chocoholic Nutritionist» is founder and CEO of Health Stand Nutrition Consulting Inc. since 2000. She is an online nutrition course creator, professional speaker and regular guest in the media. Andrea is the recipient of an award by the Dietitians of Canada: The Speaking of Food & Healthy Living Award for Excellence in Consumer Education....Read more