Vegetarian Layered Bean Dip Recipe
A Yummy Appetizer or Light Meal to Please a Crowd
This warm vegetarian bean dip is a yummy appetizer bu you might want to make it the main meal since it is so darn delicious! It's packed with lots of your favourites like beans, cheese, avocaodoes and olives.
The recipe comes from Shelley Adams, (Whitewater Cooks at Home) who is the author of some of my favorite cookbooks (I literally own ALL of her books). You can assemble this recipe 1-2 days ahead and cover and refrigerate until you are ready to bake in the oven or reheat on the grill.
What you need:
1 can (398 ml) refried beans
2 ripe avocados
Juice of 1 lemon
1 tbsp Tabasco sauce
½ cup sour cream
½ cup) mayonnaise
1 tsp chili powder
1 tsp cumin
1 tsp garlic powder
1 tsp paprika
1 tsp salt
1 tsp pepper
¾ cup cheddar cheese, grated
¾ cup mozzarella cheese, grated
1 bunch green onions, chopped
¼ cup cilantro, chopped
½ cup pitted black olives, chopped
How you make layered bean dip:
Spread the beans out on the bottom of a lightly greased 9X11 inch pan.
Mash together the avocado, lemon juice and tabasco sauce and spread it on top of the beans.
Mix together the sour cream, mayonnaise, chili powder, cumin, garlic powder, paprika, salt and pepper and spread it over the avocado.
Sprinkle the cheese, green onion, cilantro and black olives on top.
Bake at 350F for about 25 minutes (or place on the top rack of your BBQ or open fire away from the flame) until the cheese is bubbly and golden.
Serve the layered bean dip with tortilla chips and a fresh tossed green salad with seasonal veggies to balance out the meal. (You can also make your own homemade baked tortilla chips by brushing flour tortillas with oil and then seasoning with a pinch of salt, then cut into wedges with scissors and bake in the oven or on the grill until crispy).
Nutritional Information
Per 1/12 of recipe
215 Calories
11.5 Carbohydrates
8.7 g Protein
15.5 g Fat.
3.8 g Fibre
We hope you and your family and friends enjoy this tasty recipe! Let us know how you like it in the comments if you decide to give a try.
You may also enjoy one of these other delicious appetizers:
Looking for more simple meal planning tips and healthy recipes for a healthier lifestyle? Sign up for our weekly newsletter for a healthy recipe of the week (and nutrition articles and videos with a balanced living philosophy to help encourage healthy habits but still save room for your favorites). Our nutrition newsletter is written by the Online / Calgary Nutritionists on our team who each hold a professional Registered Dietitian license to ensure you are getting credible advice.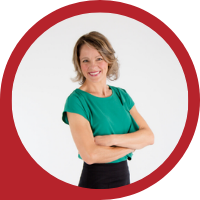 About Andrea Holwegner
CEO, Registered Dietitian, Counseling Practice Director & Professional Speaker
Andrea the «Chocolate Loving Nutritionist» is founder and CEO of Health Stand Nutrition Consulting Inc. since 2000. She is an online nutrition course creator, professional speaker and regular guest in the media. Andrea is the recipient of an award by the Dietitians of Canada: The Speaking of Food & Healthy Living Award for Excellence in Consumer Education....Read more