We are Celebrating 16 Years of Business!
Back in 1999, when I first started as a sole proprietor, and then incorporated the business in 2000, I never imagined where things would be today. In the beginning I can remember being so excited to see my first clients, but at the same time feeling terrified I would forever be living under my parents' roof and borrowing their car while paying off a student loan. I am grateful for the support my parents offered me in the start-up phase and the cheerleaders along the way that helped me through the hurdles. I am also grateful for the dedicated team of awesome ladies I work with and for our hardworking clients that allow us part of their journey to move towards healthy change.
In true Health Stand Nutrition style, and demonstrating our core philosophy that you don't need to be perfect in order to achieve health, here is a photo of our recent staff dinner party at my place. We enjoyed a delicious spread of margaritas with pear and goat cheese crostinis with honey truffle oil and shrimp mango skewers. We then sipped sparkling wine and enjoyed a fresh cucumber noodle salad followed by more vino served with chicken stuffed with figs and wrapped in bacon, wild rice pilaf (with more bacon), roasted green beans with tahini as well as roasted carrots and rutabaga (see recipe below!). We completed the night with…yes…you guessed it…something chocolate (mini mocha cheesecakes served with fresh strawberries and port). Yummmmm…
What are your favorite entertaining recipes that offers some good nutrition with a twist of indulgence? Tell us here!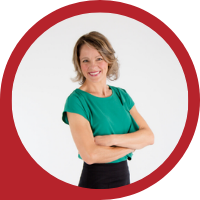 About Andrea Holwegner
CEO, Registered Dietitian, Counseling Practice Director & Professional Speaker
Andrea the «Chocolate Loving Nutritionist» is founder and CEO of Health Stand Nutrition Consulting Inc. since 2000. She is an online nutrition course creator, professional speaker and regular guest in the media. Andrea is the recipient of an award by the Dietitians of Canada: The Speaking of Food & Healthy Living Award for Excellence in Consumer Education....Read more