What is Beauty?
The following poem is by one of our past clients, Shelby Leiding, that delivered this as a spoken word performance at the recent Juno House Girl Power Hour fundraiser raising awareness and support for mental health issues such as anxiety, depression, eating disorders and self-harm in adolescent girls and young women. I was blown away by Shelby's performance and brilliance in this spoken word. Please take the time to read this and share with your network:
What is beauty?
By Shelby Leiding
What is beauty but the ultimate of democratic illusions? In a society that values the tangible above all else we've become slaves to an unattainable ideal of physical perfection; where beauty can be broken down into factors and formulas. The precise combination of adherence to social norm and genetic luck of the draw somehow culminating in the consummate physique.
What is beauty but an obsession with the manipulation of perception? A little more here, a little less there… Deceiving the eye of the beholder in the hopes of gaining an affirmation that is powerless to give true validation. Hiding behind masks of foundation and water-proof mascara we convince ourselves we can be whoever we want to be… each blemish made to disappear under layers of cover-up. And all in service of what? A societal construct that can't even be empirically defined because it doesn't exist outside of the mind?
What is beauty but a product of education and economics? A pursuit of the first-world that has long since surrendered its pursuit of freedom and equality to the slow decay of complacency and boredom. Where everyday we are bombarded with new products promising sex-appeal yet diminishing self-worth. Reducing our dynamic, living beings to mere objects to be compared to the starving, air-brushed, lipo-suctioned, silicone bodies presented on glossy magazine covers as the arbitrary symbol of human evolution. Imperceptibly influenced by an industry insidious in its ability to induce insecurity and seduce its consumers into swallowing its artificial prescription of reformation. Nip, tuck, compress, enlarge, enhance… alterations to nature's innately immaculate creation.
What is beauty but a religion of exclusion? Where only those with perfect facial symmetry and an ideal waist-to-hip ratio may worship and each diet, cleanse, or chemical peel is just another punishing ritual in the sacred quest for salvation; communion in the form of the latest, neatly packaged product. In a generation already plagued by segregation we allow a definition to encourage isolation. And alienation being the factor that breeds ugliness and hate, is it any wonder that we exist in a society rampant with anxiety, depression, suicide, eating disorders and addictions? Maybe its time to step away from the mirror and into the world. To awaken from the numbing trance of obsession with the superficial and embrace beauty as an experience, not a virtue.
Connection, Compassion, Courage… these are the virtues that you can't manufacture, that won't sag with age or wrinkle with time, that don't promise what they can't fulfill or exclude those who don't fit into their narrow mould. What is beauty if not what's real? What's here? What's now? What's felt? What is beauty, but yours to define?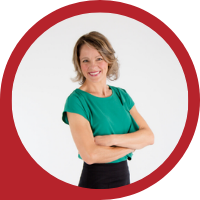 About Andrea Holwegner
CEO, Registered Dietitian, Counseling Practice Director & Professional Speaker
Andrea the «Chocolate Loving Nutritionist» is founder and CEO of Health Stand Nutrition Consulting Inc. since 2000. She is an online nutrition course creator, professional speaker and regular guest in the media. Andrea is the recipient of an award by the Dietitians of Canada: The Speaking of Food & Healthy Living Award for Excellence in Consumer Education....Read more