Why is it so hard to eat healthy? How can I have more fun? Listen to my QR77 radio program here
Every monday at 4:15pm on QR77 Radio join me and Angela Kokott host of Calgary Today with our segment "You are what you eat" to get the goods on healthy eating.  If you missed my segments I will be archiving these audio discussions on my blog here.
Listen to the program here:  Episode 1: How to have more fun AND still be healthy
In our opening segment I explore my nutrition philosophy and these 2 key questions:
1.  Why is it so hard to eat healthy?
2 big challenges TIME, OVERWHELM but most of all…
People are not having any fun – restrictions, rules, deprivation

Fun = success (in life and with food)
You can have health without guilt or complexity
We all want what we can't have
2.  How can I have more fun and still achieve health and weight management?
Don't commit to anything 100% – imperfect is perfect
There is no better time than NOW to begin
Work around "non-negotiables" – chocolate for me, what is it for you?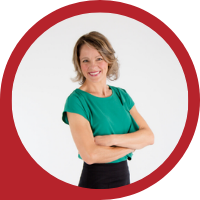 About Andrea Holwegner
CEO, Registered Dietitian, Counseling Practice Director & Professional Speaker
Andrea the «Chocolate Loving Nutritionist» is founder and CEO of Health Stand Nutrition Consulting Inc. since 2000. She is an online nutrition course creator, professional speaker and regular guest in the media. Andrea is the recipient of an award by the Dietitians of Canada: The Speaking of Food & Healthy Living Award for Excellence in Consumer Education....Read more