3 Things to Know About Working With an Eating Disorder Dietitian
Why our Eating Disorder Dietitian Team Supports #EDAW2020 #Showusyourpurple
Eating Disorder Awareness Week is February 1-7.
Did you know that over 1 million Canadians struggle with eating disorders? This is almost the entire population of Saskatchewan.
Our virtual and Calgary Nutritionist practice and Eating Disorder Dietitian team here at Health Stand Nutrition Consulting supports many individuals and families with eating disorders. Recovery from anorexia, bulimia, ARFID (avoidant/restrictive food intake disorder), binge eating disorder and other eating disorders isn't easy but with the right support in place, recovery is absolutely possible. Our role as Eating Disorder Dietitians is to provide compassion, education, leadership and collaboration for the clients we serve.
WATCH this previous Facebook Live video where I discuss 3 Things to Know About Working with an Eating Disorder Dietitian:
Each day the Eating Disorder Dietitians in our practice work hard to meet our clients where they are at and be a trusted resource to dispel myths and develop a healthier relationship with food and your body.
This year NEDIC (National Eating Disorder Information Centre) prepared the following information to help increase awareness and validate some of the common barriers people face in eating disorder recovery.
Reducing Stigma and Shame

Seeking help for any mental illness, let alone an eating disorder, is no easy task. Preparing yourself for the challenges you may experience can help you advocate for the support you need. You deserve help and do not have to wait until you meet criteria for a clinical diagnosis to receive help.

"People won't take me seriously because I don't look like I have an eating disorder."
The belief that only certain people are affected by eating disorders is a widespread misconception. Eating disorders do not discriminate; they affect people of all genders, ages, sizes, classes, sexualities, abilities, races, and ethnic backgrounds. No matter how you look, your struggle with food, weight, and body image is valid.

"I'm embarrassed to admit I have an eating disorder."
Similar to other medical and mental illnesses, eating disorders are not personal choices. They are complex illnesses that arise from a combination of biological, psychological, social, and cultural factors. 
"I'm worried what my family and friends will think/do when they find out I have an eating disorder."
Although well-intentioned, loved ones may not always respond supportively at first. Encourage your loved ones to learn more about eating disorders by reading books, articles, and brochures. The EDAW partner organizations are an excellent place to start.
If you or a loved one are struggling with anorexia, bulimia, ARFID, or binge eating disorder contact us for nutrition support. We have several Eating Disorder Dietitians on our team with a unique specialization in nutrition support for eating disorder recovery. We collaborate with your family doctor and psychologist to move forward at a pace you can manage for recovery.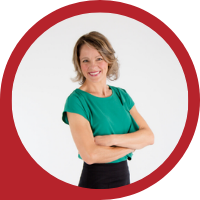 About Andrea Holwegner
CEO, Registered Dietitian, Counseling Practice Director & Professional Speaker
Andrea the «Chocoholic Nutritionist» is founder and CEO of Health Stand Nutrition Consulting Inc. since 2000. She is an online nutrition course creator, professional speaker and regular guest in the media. Andrea is the recipient of an award by the Dietitians of Canada: The Speaking of Food & Healthy Living Award for Excellence in Consumer Education....Read more