Workplace Nutrition: Combatting 'Cake Culture'
Nutrition can get missed in employers' focus on wellness, fitness initiatives
Read my interview with Sarah Dobson, Editor/Supervisor Canadian HR Reporter
It seems even if you pack yourself healthy lunches and snacks it can still be incredibly difficult to eat well at work.  The number of treats brought in, poorly planned catered meals and fridges full of pop can make it difficult to stay on track with a healthy diet.  Find out more about how to combat 'cake culture'  in this article by Sarah Dobson, Editor/Supervisor of Canadian HR Reporter in the full article attached here as a PDF:  Workplace Nutrition: 'Cake Culture'
Here are a few of my quotes about workplace nutrition from the article:
Employers can be the voice of health and reason.
It's such a critical time for health because so many more meals are consumed at work for a lot of people than they are at home.
It's such an important consideration for employers because work- place productivity, on a basic, fundamental level, is tied so strongly to nutrition habits.
Companies spend thousands of dollars on systems and technology, project management tools and productivity experts when they fail to actually look at the most basic reason people struggle with productivity, which is our people are either underfed, overfed, over-caffeinated or over-sugared.
It's completely overlooked and so basic and immediate; it is an immediate connection to productivity, confidence for the sales team, how you feel for overall energy, how nice you play with others. Our blood sugars are so tied to nutrition so if we're either not getting enough or not getting the right nutrition, it's directly going to impact our ability to focus, concentrate, and just have a good overall mood.
Many companies with wellness programs tackle fitness initiatives and stress reduction, but they completely neglect the nutrition piece.
There's a lot of things you can do that are super cost effective in just the way you restructure things.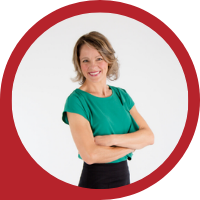 About Andrea Holwegner
CEO, Registered Dietitian, Counseling Practice Director & Professional Speaker
Andrea the «Chocoholic Nutritionist» is founder and CEO of Health Stand Nutrition Consulting Inc. since 2000. She is an online nutrition course creator, professional speaker and regular guest in the media. Andrea is the recipient of an award by the Dietitians of Canada: The Speaking of Food & Healthy Living Award for Excellence in Consumer Education....Read more