What do nutrition geeks (aka dietitians) feed their family?
Find out how the dietitians in our practice manage nutrition challenges at home.
If you are curious what dietitians feed their families and how we address the challenges of faced-paced lifestyles, picky eating and more, read on. The five dietitians in our practice (including myself) have kids who range in age from four years to 22. While you might think we are "nutritional beacons of perfection", learn how we find a balance and abide by the concept that imperfect is actually perfect.
Meet the Team!
Deb Lounsbury
Dietitian Specialty: Diabetes, Cardiovascular, Weight Management, Celiac
Adult kids: 19-year-old daughter and 22-year-old son (both post-secondary students living at home)
"My adult kids tend to eat the same foods over and over. A positive thing about that is they are eating the foods they really love. But I do talk about the importance of including a variety of foods to get different nutrients that the body needs. I try to provide a variety of foods at our evening meal together so they are exposed to lots of different foods and have the opportunity to eat them," says Lounsbury.
Lounsbury also reminds her daughter that all foods fit into healthy eating in response to her daughter's questions about "good" versus "bad" food that she hears from friends and the media.
"We talk about eating nutrient-rich foods more often and having less healthy foods occasionally but not needing to avoid them."
Sherene Sieben
Dietitian Specialty: Disordered Eating, Pediatrics, Family Meal Planning
Kids: 12-year-old daughter and 14-year-ld son (both recreational athletes)
"School lunches are a big issue since our kids are in middle school and are therefore allowed to go off school property. They sometimes find themselves at less ideal places, such as convenience stores, with friends more than willing to share even if they don't have money," says Sieben.
Sieben adds the best solution she has found (with a good 75 per cent success rate) is to really involve kids in their own lunch packing.
"Let them give you their grocery list and help pack lunch. Be a food enthusiast and show them that healthy also means delicious."
Carrie Mullin-Innes
Specialty: Sports Nutrition, Weight Management, Chronic Disease
Kids: 11-year-old daughter and 13-year-old son (both in competitive sports)
"We are still trying to manage picky eating. It requires lots of patience and trying foods over and over and encouraging even one or two bites," says Mullin-Innes.
Mullin-Innes also finds that, like many kids at this age, managing a preference for sweets over meals can be a challenge.
"When the kids don't finish a meal and are hungry a half-hour later for dessert, I remind them that a reasonable portion of fun foods can be eaten every day, but meals help to keep you full and fuel good sports performance."
Richelle Tabelon
Specialty: Disordered Eating, Emotional Eating, Chronic Disease
Kids: Three boys aged five, seven and 10 (all very active growing boys!)
Tabelon also finds lunches a challenge. "I always involve my kids in making their school lunches. If they pick what goes in their lunch, they are much more likely to eat and enjoy it. I guide them in picking a protein, a grain, a calcium-rich food, vegetables and fruit."
Tabelon comments that her kids' appetites have grown exponentially and that the trick is stocking up on dense nutritious foods, such as higher fibre grains, whole fruits, protein choices and healthy fats. She also added extra storage space for non-perishables in the basement and a spare freezer to ensure she has a backup of healthy foods on hand.
Myself: Andrea Holwegner
Specialty: Counselling Practice Director, Professional Speaking, Consulting
Kids: One four-year-old boy (with as much energy as two little ones!)
As a working mom, my biggest challenge is the supper hour. It is a juggle for my husband and I to cook supper and give attention to our little guy, who wants to play. In some cases, we have prepared meals the night before that are simple to cook. In other cases, a "divide and conquer" setup with one person cooking and the other playing has worked well.
By far the best success, though, is including my four-year old in cooking. Kids are interested in cooking and it can improve their interest in trying new foods and acquiring lifelong skills. We let my son stir, mix, dump and chop soft foods. And while it isn't always tidy, it is good family time.
Notice the mix between nutrient-rich foods and less-than-perfect foods chosen based on taste and enjoyment. We encourage you to find the same balance for your family.
Breakfast
Homemade pancakes, waffles or French toast (fresh or from freezer) with berries and bacon or back bacon.
Leftover pizza (hot or cold)
Cereal and milk with fruit or juice
Toast with nut butter or scrambled eggs and banana
Oatmeal with chia seeds, dried/fresh fruit and milk
Peanut butter porridge (oatmeal with peanut butter, topped with fresh banana)
Smoothies — fresh/frozen fruit, milk and yogurt
Lunch
 Bento style boxes: crackers, bread, edamame, cheese, nuts/seeds, muffins, fruit, yogurt and raw veggies, such as snap peas, carrots or peppers
Leftover pizza or pasta (hot or cold), fruit and homemade energy bar
Finger food meal: pita, hummus, hard-cooked eggs, raw veggies, cheese, fruit
Pasta with tomato sauce with a side of cottage cheese and fruit
Ham and cheese sandwich with yogurt, cucumbers, fruit and cookies
Peanut butter and banana sandwich or wrap, grapes and milk
Weekend grilled cheese sandwiches and butternut squash/carrot/tomato soup
Supper
Spaghetti with tomato sauce made with meat or sausage and Cesar salad
Slow cooker pulled pork, buns and salad
Slow cooker beef, potato and vegetables
BBQ chicken, fish, meat with foil pack of potatoes or mashed potatoes and grilled veggies
Hawaiian pizza and raw veggie and dip
Baked beans, baked potatoes and caprese salad
Stir-fry meat or shrimp with veggies and noodles or rice
Lasagna with garlic toast and raw veggies and dip
Homemade fried rice (less oil and more veggies), pad thai or shrimp salad rolls, edamame beans and veggies
Homemade beef, pork or veggie burgers with tomato avocado salad
Chicken fajitas with peppers, portobello mushrooms and onions
Meatloaf, roasted potatoes and asparagus
Beef or black bean tacos with cheese, lettuce, tomato and peppers with salsa and sour cream.
Broiled salmon or homemade chicken fingers, brown rice and steamed peas and carrots
Homemade macaroni and cheese with raw veggies and dip
Marinated chicken skewers, pita and Greek salad
Snacks
Whole grain crackers and cheese
Raw veggies and hummus or dip
Air popped popcorn with butter and salt
Tortilla chips, salsa and guacamole
Ice cream with fresh fruit
Toast with peanut butter
Veggie smoothies — frozen mango, pineapple, kale, unsweetened juice
Homemade baked muffins, cookies or energy bars
Banana with peanut butter
Shelled sunflower seeds, pumpkin seeds or nuts and fresh fruit
Yogurt and fresh fruit
Fried egg sandwiches
Mug of hot chocolate made with milk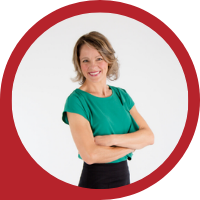 About Andrea Holwegner
CEO, Registered Dietitian, Counseling Practice Director & Professional Speaker
Andrea the «Chocolate Loving Nutritionist» is founder and CEO of Health Stand Nutrition Consulting Inc. since 2000. She is an online nutrition course creator, professional speaker and regular guest in the media. Andrea is the recipient of an award by the Dietitians of Canada: The Speaking of Food & Healthy Living Award for Excellence in Consumer Education....Read more