Pregnancy Nutrition Tips from a Mom RD
What to eat during and after pregnancy
While there are many things to think about when it comes to prenatal and postnatal nutrition, here are some of the most important tips to keep you and your baby healthy.
a version of this article appeared in Best in Baby Biz
Top 2 nutrition tips during pregnancy
1.  Instead of eating for two, eat twice as healthy
Pregnancy requires extra calories, carbohydrates and protein to support your growing baby. However, unlike the popular saying "eating for two", your nutrient needs do not double during this time. Doing this can lead to unnecessary weight gain that can lead to big babies, increased risk for diabetes and difficulties losing weight after your pregnancy. Rather than eating for two, think about eating twice as healthy during this period of rapid growth and change.
On average your body needs approximately 300 extra calories per day during the second and third trimester of pregnancy. Adding another snack or including a slightly larger serving at a meal can achieve this. This could look like:
An extra piece of whole grain toast with peanut butter or almond butter at breakfast
An evening snack of 3 cups of popcorn with small drizzle of butter, 1/4 cup nuts and an orange
An extra snack of a yogurt parfait with 1 cup yogurt, 1/2 cup granola and ½ cup berries as well as a handful of cut up raw vegetables
2. Optimize iron and folic acid intake
During pregnancy, iron needs increase since your body is making more red blood cells to carry oxygen through both your body and your baby's body. Choose a prenatal supplement that supplies 16-20 mg of iron each day (unless otherwise advised by your physician). Make sure to include a variety of high iron food sources daily such as:
Beef, chicken, pork, eggs and fish
Beans such as kidney beans, chickpeas, black beans and lentils
Vegetables such as green peas, spinach, apricots and prunes
Grains such as oatmeal and quinoa as well as fortified breads and cereals
Folic acid is needed for long-term health and to prevent neural tube defects such as spina bifida. It is recommended that pregnant woman take about 0.6 to 1 mg of folic acid each day – ideally starting 2-3 months prior to pregnancy and continuing until 4-6 weeks postpartum/during breastfeeding. Choose a prenatal vitamin supplement that contains 1 mg of folic acid. The best food sources of folic acid are green leafy vegetables, asparagus, legumes, sunflower seeds and fortified grain products.
Top 2 nutrition tips for breastfeeding
1.  Increasing milk supply
Here are some tips to support a healthy milk supply to meet your baby's needs:
Feed your baby often. The more your baby sucks, the more your body will produce milk.
Get enough rest. Sleep when your baby sleeps as much as possible.
Try to reduce stress. Ask for help when you need it.
Up your fluid intake. Sometimes busy new moms forget to drink. When your baby is feeding, always grab a glass of water.
2.  Supplement vitamin D
Vitamin D helps your body use calcium and is important for healthy bones and teeth as well as long-term health.
Babies require at least 400 IU of vitamin D daily. Breast milk does not have enough vitamin D and therefore babies should receive a daily supplement of this vitamin. Putting one drop of vitamin D right on your breast right before baby feeds is the easiest way to give vitamin D to your baby.
It is also important for you to consume enough vitamin D. Since vitamin D is found in only a few foods (egg yolks, fatty fish and fortified milk), most people can benefit from a supplement. Take a multivitamin daily and speak to your dietitian and physician to see if you require additional vitamin D from supplements.
Top 2 postpartum nutrition tips for mom
1.  Reduce calories safely
Your body requires additional calories to support healthy milk production during breastfeeding so it is important not to reduce your calorie intake drastically.   Patience is key since it takes time for weight gain to come on and it takes time for weight to come off.
Many moms find that if they listen to their body and trust their hunger cues, weight will naturally decrease without intentionally decreasing their intake. Once breastfeeding is established, moms carrying extra weight can safely reduce their intake by 250 to 500 calories per day to help support weight loss without impacting breast milk production.
The best way to reduce your calories is to be mindful of portion sizes of high-calorie foods. Try these tips for hard to manage sweet and savoury foods chosen for taste and enjoyment:
Frame the Quantity: Instead of mindlessly eating items like nuts, popcorn, candy, or chocolate almonds directly out of a bag,put them in a small bowl or container. It gives you an endpoint rather than the end of the entire bag or box.
Portion Packages: Most of us don't eat portions, we eat packages. When making a trip to the store, buy foods that are individual sized or have portion control indicators. This is often more successful than hoping you'll stop at a few handfuls.
2.  Meal plan for success
A little planning can go a long way to improve your nutrition. Some moms find planning all their suppers for the week ahead helpful, but if you find this overwhelming start small. Plan three meals for the week that have plenty of leftovers.
To ensure you have enough energy and are left feeling satisfied, make sure your breakfast, lunch and supper contain three things for balance:
Grains/starchy food such as rice, potatoes, toast or pasta (whole grains and higher fibre options will also keep you fuller longer)
Vegetables and/or fruit
Source of protein such as meat, poultry, fish, nuts, legumes or eggs
Some examples of balanced meals include:
Roasted chicken breast, with quinoa and steamed asparagus and broccoli
Chickpea curry with rice and fresh or frozen stir-fried vegetables
Homemade hamburger, garden salad and yogurt for dessert
Scrambled egg omelet with vegetables and roasted potatoes
Whole grain toast with almond butter and soy milk
Slow-cooker stew served with toast and raw veggies and dip on the side
Greek pasta salad made with loads of chopped raw veggies, feta cheese, grilled chicken breast and vinaigrette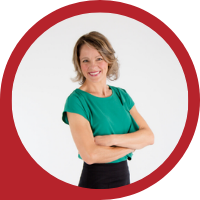 About Andrea Holwegner
CEO, Registered Dietitian, Counseling Practice Director & Professional Speaker
Andrea the «Chocoholic Nutritionist» is founder and CEO of Health Stand Nutrition Consulting Inc. since 2000. She is an online nutrition course creator, professional speaker and regular guest in the media. Andrea is the recipient of an award by the Dietitians of Canada: The Speaking of Food & Healthy Living Award for Excellence in Consumer Education....Read more