3 Factors That May Cause You to Overeat
Listen to my QR77 Radio Program here:
Every Monday at 4:15pm on QR77 Radio join me and Angela Kokott host of Calgary Today with our segment "You are what you eat" to get the goods on healthy eating. If you missed my segments I will be archiving these audio discussions on my blog here.
Episode 33 – 3 Factors that may cause you to overeat
Listen to Episode 33 here: 3 Factors that may cause you to overeat
While there are many reasons we choose to overeat a September 2012 meta-analysis in the American Journal of Clinical Nutrition reviewed 23 research studies about the role of 3 common lifestyle factors that may cause you to overeat.
There are 3 prominent lifestyle factors that can trigger overeating (in order of most significant):
Alcohol consumption (typically 1-2.5 servings)
Sleep deprivation (typically less than 5.5 hours)
Television watching (typically 25-45 minutes)
Why is this so?
Research has a few theories as to why alcohol, sleep deprivation and TV watching impact consumption.   Firstly all of these increase gherlin, an appetite stimulant hormone.  Secondly our inhibition is impaired and the reward center of our brain is activated causing us to want more food.  Sleep deprivation also negatively affects blood sugar clearance and insulin sensitivity as well as reducing leptin, a hormone that suppresses appetite.
What can I do about this if I am struggling with excess weight?
Be extra cognizant the days you drink alcohol – eat the same or ideally a bit less on days that you drink.  You don't have to give up everything – make choices – skip dessert or the appetizer if you prefer alcohol or vice versa.  Consider saving alcohol for weekends and social activities rather than weekdays.
Record your TV shows so that you reduce the time you are sitting watching TV and also to limit the exposure of TV commercials that highlight food (food images further increase gherlin production).  Again make choices – the less TV you watch the better so which programs are your favorite?
If you have difficulty with insomnia or alternatively if you snore loudly you may suffer with sleep apnea.  Talk to your doctor and ask for a referral to a sleep medicine physician for an assessment.  Try getting to bed even 15 minutes earlier and then work you way up to the 7-8 hours recommended for adults for health.
Choose not to eat while watching TV if at all possible so you can be fully engaged in eating and only eating.  If this is impossible start by making sure you portion snack foods into small bowls since large bags and portions can be eaten mindlessly when you are distracted.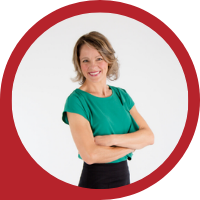 About Andrea Holwegner
CEO, Registered Dietitian, Counseling Practice Director & Professional Speaker
Andrea the «Chocoholic Nutritionist» is founder and CEO of Health Stand Nutrition Consulting Inc. since 2000. She is an online nutrition course creator, professional speaker and regular guest in the media. Andrea is the recipient of an award by the Dietitians of Canada: The Speaking of Food & Healthy Living Award for Excellence in Consumer Education....Read more