Got a Picky Eater?
A Dietitian's Top 10 Tips for Working Through PIcky Eating
We all know how important good nutrition is, but for a developing child it's very important. They require nutrients and energy to grow. If we don't provide them with healthy options in ways that they enjoy, picky eaters may be missing out on key nutrients. Kids can get pretty limited in their food choices so starting healthy eating at a young age is important. 
You may be thinking: "But I have tried everything! My kid still won't eat." Have patience. Some say it takes up to 10 interactions with a food presented 10 different ways before a child can really make up their mind on a singular food. Meaning, if you give your cooked child bell pepper and they don't like it, you need to try it raw, in different dishes, with something to dip etc.
If your child is old enough to discuss foods with, you can ask them what it is about the particular food they don't like. Is it the taste? The texture? The dish it was prepared in? When you get curious with your kids and try to find out just exactly why they don't like certain foods you can then attempt to work with those reasons to make adjustments.
When a kid says "I don't like vegetables", well that's a fairly large group of food. What vegetables don't they like and which ones do they like? What do they have in common? What other vegetables are similar to the ones they like?  It's okay to focus more on the foods that picky eaters do like while introducing other new foods slowly.  
Parents and Picky Eaters Each Play an Important Role
It is a shared responsibility between the parent and child when it comes to eating.  
It is the parents job to decide:  
what food and drinks are offered 

 

when the food is offered 

 

where the food is offered 

 
But its the child's job to decide: 
if and how much they want to eat from what is prov

ided to them

 
No child will starve if they miss a meal or two, but if you start to cater to their desires and give in to their picky ways, they will outlast you in the battle until they get what they want. So don't give up!
T
ry some of these tips to work 
through picky eating
1) Always eat together
As much as possible ensure that you eat together as a family at a table, this will help your child learn table manners as well as engage in healthy eating behaviors. Studies show that children that eat at a table and with a family stay at a healthier body weight.  
2) Be a role model
Children are very observant. They watch and often copy those around them. Let your child see you making the same healthy choices you are asking them to make! Kids will be better eaters and more willing to try new foods if they watch you do it first and eat the same foods as them. It might take time, but they will do the same.  
3) Keep meal times pleasant
If meal times become a time of stress, anxiety or discomfort, your kids will not enjoy eating. They will start to associate these emotions with mealtimes or food. You want to ensure you have positive talk and engage in safe topics while eating, especially when introducing new foods.  
4) Don't eat distracted
This is something everyone should follow. Research has shown that both you and your child will eat better without the TV on. When we eat distracted, whether it's by the TV, our phones, a book, toys or games, we are less likely to pay attention to our food. This can mean we eat very little of it or we over eat because we are not listening to our hunger and satiety cues.  
5) Offer 3 meals and multiple snacks throughout the day
Offering food at similar and regular times each day will help your child know when to expect food and will help them come to the table hungry. Providing even the smallest amount of food outside of the regular eating windows can spoil a child's appetite.  
Try to only offer water or other beverages in between meals as providing too much to drink may fill up a child's stomach and provides less room for other healthy foods.  
6) One meal for the family
This one is very important – make one meal not separate meals for the entire family. It is okay for certain elements to be slightly different but you want to avoid 2 or 3 completely separate meals. This will help increase your child's variety in intake if you serve more than just what 'they like'. If will also help save you time, money and effort. Its best to always serve one food you know your picky eater will eat with a new food or a food they are not sure of, that way they can be comfortable at the meal.  
7) It's okay for a child to decide if and how much they eat
I know as a parent we want what's best for our kids, and eating to fuel their growing bodies is one of them. However there are multiple factors that can impact a child's appetite. We need to trust that after discussing hunger and satiety they know when they are still hungry or full. It is important to not force food on your child, this can cause them to feel the need to always eat what's on their plate even when they are full which can lead to overeating later in life.  
8) It's okay to try new foods
To increase the variety of your child's intake it's important to introduce new foods, however try to avoid introducing multiple foods at one time. Introduce new foods in small amounts (not the main dish) and on different days of the week and always with familiar foods. Never force your child to try new foods. Encourage it, role model it and continue to try new foods, but if they choose to not eat what is provided that is okay! Still, don't then make them something different than the family meal, either. I know, its a fine line to walk.  
9) Avoid making food a reward or punishment
We all grew up with 'good' and 'bad' foods, or the line "if you eat your peas you can have a cookie after dinner". Even though our parents were trying to ensure we got good nutrition, thinking like this can cause disordered eating. It puts labels on foods and makes certain foods a higher value. All foods can fit into your diet, presenting food as all good food but some foods as those we eat more often than others is a better way of addressing more nutritious foods. Give your child a choice of what and how much to eat of what is in front of them, peas or cookies, it's up to them.  
10) Involve your kids in the meal planning process
This may be more difficult for the very young kids, but as soon as they learn what foods are what and can engage with you get them to help you out. This could be with meal ideas, growing or picking foods, shopping together and preparing foods together with kid safe tasks such as stirring and measuring. When I child interacts and engages with their food they are more likely to eat what they have prepared. The more choice a child has the more empowered they feel in their decisions. Even though a parent decides what a child eats, you can provide choice. Let them know there are 4 vegetable options in the fridge and they are to pick 2 to have with dinner. Show them what the foods look like and how they could be prepared. This will engage your child, help them feel like their voice is heard and encourage them to eat the foods as they choose them.   
Recipes to Make For your Picky Eater
Energy bites
 Makes about 22 balls 
Ingredients: 
1 cup oats 
2/3 cup unsweetened shredded coconut 
1 tbsp chia seeds 
1/2 cup ground flax 
1/2 cup chocolate chips 
1/2 cup peanut butter or almond butter (to make it nut free choose sunflower butter or 1/2 cup WOW butter, plus 1/4 cup vegetable oil) 
1/3 cup maple syrup 
1 tsp vanilla extract 
Method: 
In bowl, mix all ingredients. Cover and refrigerate for at least half an hour. Once everything is chilled, roll into 1-inch balls, and store in fridge, in sealed container. Can freeze. 
Banana pancakes 
Makes about 6 pancakes 
Ingredients:  
2 medium ripe bananas  
2 tsp baking powder  
1 tsp vanilla  
2 large eggs  
4-6  tbsp oats (can also use almond, coconut or wholewheat flour)  
Optional toppings: Greek yogurt, fruit, nut butters, seeds, coconut flakes, hemp seeds, maple syrup 
Method: 
In a large bowl mash bananas. Add baking powder and vanilla, mix until combined. Whisk in eggs. Add 1tbsp oats or flour at a time until a thick batter is formed. If your batter is too thick you can add milk and if too wet add more oats. Heat a large fry pan on medium heat. Once hot add oil or pam to prevent sticking. Spoon 1/4-1/2 cup of batter in rounds into the pan and turn heat down to low. Flip 3-4 min after bottom is golden brown and repeating on the other side. Serve with desired toppings.  
Individu
al pizzas 
Makes 2 pizza pan pizzas or 6-8 individual depending on size 
Dough Ingredients 
1 cup warm water 
1 1/4 tsp traditional yeast (or 1 package)  
1 tbsp sugar 
1 tbsp olive oil  
1 tsp salt  
1/2 tsp each dried oregano and basil  
2 3/4 flour (I use 1 1/2 white and 1 1/4 whole wheat)  
Might need to add a bit more water or flour depending on consistency. 
Method 
In a large bowl or mixer bowl with dough hook add all ingredients and mix until dough forms, let rise if have time (can also use right away) roll out into desired sized rounds and place on a pizza pan or cookie sheet. Pre bake the dough at 350 for 5-7 min, add toppings of choice and bake till cheese is melted. Provide lots of options of diced veg and meat for topics for your children to choose what they like and can add to their own pizzas. Allow them to put together their own pizzas.  
Here are some more articles on kids and nutrition that you may enjoy:  
Looking for more simple meal planning tips and healthy recipes for a healthier lifestyle? Sign up for our weekly newsletter for a healthy recipe of the week (and nutrition articles and videos with a balanced living philosophy to help encourage healthy habits but still save room for your favorites). Our nutrition newsletter is written by the Online / Calgary Nutritionists on our team who each hold a professional Registered Dietitian license to ensure you are getting credible advice.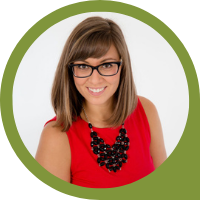 Shauna Kime
Registered Dietitian & Online Nutritionist - Weight Concerns, Women's Health, Diabetes & Meal Planning
The first thing you will notice about Shauna is her contagious optimism, energetic personality and zest. Shauna loves teaching and has a heart full of compassion and empathy for helping clients work through health concerns. Shauna specializes in healthy cooking, diabetes, cardiovascular health, weight concerns and womens health. Read more