4 Tips for Fullness
By Andrea Holwegner, Health Stand Nutrition Consulting Inc.
Is one of your goals/resolutions to lose weight? Want to feel fuller longer? Here are 4 tips to help you feel full!
PROTEIN
Protein is essential in a meal or snack to help keep you full and sustain your energy. Protein also helps stabilize your blood sugars.
Have a source of protein at every meal/snack. Here are some protein ideas:
Glass of milk/soy milk
Boiled Egg(s)
Cottage cheese
Yogurt
Sliced cheese
Nuts/nut butters
Roasted Soy Nuts
Meat/poultry/fish
Legumes (chick peas, lentils, kidney beans, etc.)
FIBER
Fiber helps to keep you full by also slowing down digestion and causing your blood sugars to rise slowly.
Here are some quick high fiber suggestions:
High fiber home-made muffin – pair it with a glass of milk for protein!
Bran cereal – mix them with yogurt and fruit to create a parfait!
Hummus – have it with raw veggies or pita
Legumes (i.e. chick peas, kidney beans, lentils, etc.)- in a salad/as a side dish, in a chili
Ground flaxseeds or wheat germ – sprinkle over your cereal/oatmeal, add it to your smoothie, add it to your yogurt, or include in your baking
Pear or apple slices – great with cottage cheese
Fresh or frozen berries – tasty with yogurt
VOLUME
The sheer volume of food contributes to your feeling of fullness. The key is to fill your plate with low calorie foods such as vegetables. They contain very little calories, are packed with nutrients, and bulk up your meal!
Fill half of your supper plate with vegetables – a good way to do this is to have ½ hot and ½ cold (e.g. steamed broccoli, and sliced tomatoes)
Have a salad or vegetable soup to start your meal
Bring lots of vegetables with your lunch/snack – snow peas, peppers, cucumbers, cherry tomatoes, carrots, broccoli, cauliflower…pair them with a dip!
TEMPERATURE
Hot foods can help you feel full and are also very comforting in the winter months!
Here are some ideas:
Vegetable broth-based soups
Hot chocolate made with milk
Latte
Steamer
Bring dinner leftovers to heat up for lunch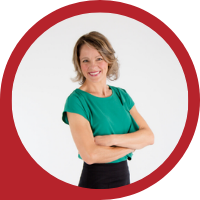 About Andrea Holwegner
CEO, Registered Dietitian, Counseling Practice Director & Professional Speaker
Andrea the «Chocolate Loving Nutritionist» is founder and CEO of Health Stand Nutrition Consulting Inc. since 2000. She is an online nutrition course creator, professional speaker and regular guest in the media. Andrea is the recipient of an award by the Dietitians of Canada: The Speaking of Food & Healthy Living Award for Excellence in Consumer Education....Read more