6 Sensible Tips for Holiday Seasonal Eating
6 Sensible Tips for Holiday Seasonal Eating
By Andrea Holwegner, Health Stand Nutrition Consulting Inc.
KEEP THINGS IN PERSPECTIVE!
It is not what you eat between Christmas and New Year's that makes a difference, but what you do between New Year's and Christmas! Do not expect perfection-but plan ahead to make good choices.
BE REALISTIC!
Many people gain a few pounds over the holiday season. It is probably wise to choose to maintain your weight over the holidays than to try and lose weight.
TAKE THE FOCUS OFF FOOD
Why not start a new holiday tradition that involves an activity or a craft that does not emphasize food? Some examples may include: snowshoeing, skating, a holiday craft, attending craft sales, or an evening walk to enjoy the Christmas lights.
DRINK LIGHTLY
Drink plenty of water throughout the holidays. Alcoholic beverages can add up to be many "empty calories" (high in calories with low nutritional value). A 6 oz. glass of rum and eggnog can have ~320 calories! Try a low calorie beverage such as mineral water or club soda with a bit of cranberry juice between alcoholic drinks.
WATCH OUT FOR…
All or None Thinking All is not lost if you decide to indulge. If you get off track one day, get back on track the next day.
Emotional Eating Ask yourself "Am I eating because I am stressed, lonely, or bored rather than because I am truly hungry?"
Unconscious Eating When you are eating-solely eat away from distraction. Distance yourself from the food table at a party.
REWARD YOURSELF
Schedule a non-food reward for yourself after putting in the hard work of sticking to your plan. You could buy some new clothes or go for a massage for example.
Holiday Eating
"If you fail to plan, you plan to fail"
Something that has worked for many of my clients is to take a calendar and "X" off the days you are likely to overeat or indulge in special holiday treats. For example, you may start by placing an "X" on Christmas Eve, Christmas Day, New Years Eve, New Years Day and Christmas parties you know you will be attending. For many people even listing the number of holiday functions/parties you will be attending may result in a calendar full of X's! Try to make healthier choices other days in the month that do not have an "X" placed beside it. This type of planning allows you the freedom to enjoy the holidays but not over do it too often.
5 Factors That Contribute to Weight Gain During the Holiday Season
Food Gifts
Traditional Foods
Christmas Parties
Less Time for Exercise
The "Binge Now, Lose Later" Mindset
1) What to Do With Food Gifts
If you receive a box of chocolates or some other holiday treats, you could rewrap the gift and give it to charity. You could stash the box on your highest shelf until a group of people come over who will enjoy it with you. The treats will disappear fast!
2) Making the Traditional Holiday Meal Healthier
Choose turkey or chicken rather than goose or duck. Baste poultry in broth rather than butter. Use skim or 1% milk in recipes. Sauté vegetables in olive oil rather than butter or margarine. When making stuffing, use whole wheat bread, add less butter/margarine and moisten with chicken broth. Mash potatoes with skim/1% milk /buttermilk/fat-free sour cream. To make a low-fat gravy, pour drippings into a glass measuring cup and place in the freezer. When chilled, skim off the hard layer of fat and then thicken gravy as usual. Choose more veggies and less meat. Finish the meal with a small serving of a light dessert or skip it and have it later since you will likely be stuffed!
(3) Eating Smart At Holiday Parties
Before going out to the party have a nutritious nibble or small snack. Never go to the party hungry! Give yourself permission to taste the holiday treats-but practice portion control. If you are the host/hostess be sure to prepare some healthier alternatives amongst the holiday treats. If you are taking something to a potluck or party, try a nutritious appetizer such as a plate of raw veggies with light dip, a fresh fruit platter, hummus and whole wheat pita, or brushetta and whole wheat baguette. Keep your hands occupied with a glass of water, mineral water, or club soda in one hand and a plate of the healthiest goodies you can find in the other. Distance yourself from the food table. Remember to mingle more than you munch!
4) Finding More Time To Exercise
Don't neglect your exercise program over the holidays! At least get out and do plenty of walking if you simply can't adhere to your normal routine. Try exercising first thing in the morning -sometimes as the day goes on it becomes harder and harder to squeeze exercise in. Take the stairs instead of the elevator. When shopping, park far from the store entrances and walk an extra two laps around the mall when finished.
(5) Change Your Mindset
Remind yourself that prevention is easier than trying to diet and exercise away extra pounds. Be aware of emotional eating during the holidays. Try writing down what you eat to increase awareness and keep you on track.

Gifts for Good Health
The time has come to scout for great little gifts for the nutrition-conscious people on your list. Why not try one of the following ideas instead of a box of chocolate?
Fill a basket/bowl full of one of the following and wrap in cellophane and tie with a fancy bow:
Fresh fruit such as pears, kiwis, apples, and mandarin oranges
Dried fruit such as cranberries/apples/raisins/apricots and nuts/seeds
Jar of Cranberry Juice and Mulling spices
Jar of homemade preserves (you can get these at most craft sales), and whole wheat crackers (Ryvita, Wasa, Melba toast, Stone Wheat Thins etc.)
Bottles of fancy flavored vinegar (eg. herbed, raspberry, balsamic etc.), and oils (eg. rosemary, or garlic flavored olive oil etc.)
Oversized ceramic teacups or mugs packaged with an assortment of international teas and colorful napkins.
How About a Healthy cookbook such as:
Any of the Anne Lindsay Cookbooks
The Loony Spoons/Crazy Plates Cookbook
Cook Great Food/Great Food Fast! (Dietitians of Canada)
Cooking for the Rushed
Gift Certificate for Nutrition Counselling:
Buy a gift certificate for nutrition counseling for your friend or family. Contact us at info@healthstandnutrition.com or phone (403) 262-3466.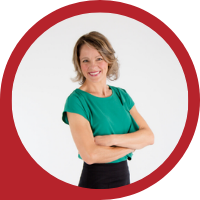 About Andrea Holwegner
CEO, Registered Dietitian, Counseling Practice Director & Professional Speaker
Andrea the «Chocolate Loving Nutritionist» is founder and CEO of Health Stand Nutrition Consulting Inc. since 2000. She is an online nutrition course creator, professional speaker and regular guest in the media. Andrea is the recipient of an award by the Dietitians of Canada: The Speaking of Food & Healthy Living Award for Excellence in Consumer Education....Read more