7 Nutrients of Special Concern During Pregnancy
Listen to my QR77 Radio Program here: 
Every Monday at 4:15pm on QR77 Radio join me and Angela Kokott host of Calgary Today with our segment "You are what you eat" to get the goods on healthy eating. If you missed my segments I will be archiving these audio discussions on my blog here. 
Episode 22 – 7 Nutrients of Special Concern During Pregnancy 
The radio station was not able to retrieve an audio copy of this segment due to technical difficulties but here is an overview of the content that was covered:
Pregnancy is one of the most intense periods of growth and development for both a woman and her baby. Choosing nutritious foods and managing a healthy lifestyle before, during and after you are pregnant is critical for the healthiest outcomes for both you and your baby.  
Folic Acid
This vitamin is especially important in helping to prevent neural tube defects in the developing spine of your baby.  All prenatal supplements contain enough folic acid to make sure you have enough before and during your pregnancy. Foods rich in folic acid include orange juice, fortified breakfast cereals and other grains as well as legumes and leafy green vegetables.  
Iron
Iron is really important during pregnancy due to the rapid increases of blood volume.  Prenatal supplements contain a large amount of iron to help make sure you get enough.  Food sources rich in iron include beef, seafood, poultry, fish, soy foods, legumes, fortified breakfast cereals and green vegetables.  Vitamin C rich foods such as citrus, tomatoes, berries and potatoes enhance iron absorption. 
Calcium
Your baby needs calcium to build your baby's new bones, help maintain your own healthy bones as well as produce milk for feeding your baby.  Calcium is also important to keep your blood pressure during and after your pregnancy.  Foods rich in calcium include milk, yogurt, cheese, fortified soy beverages, fortified orange juice, canned fish with bones, almonds, broccoli and legumes.  It is important to consume 3 servings of calcium rich foods per day or an extra calcium supplement is required since prenatal supplements do not have enough calcium to meet all your daily needs.  One serving of a calcium rich food is 1 cup (250ml) of milk or fortified soy beverage, 3/4 cup (175 g) yogurt or 1.5 ounces (50g) cheese.
Vitamin D
Vitamin D is very important in helping you absorb more calcium and helps to keep your bones strong.  Although the sun helps us produce vitamin D in the skin it is an unreliable source and it is best to get our vitamin D through foods and supplements.  Prenatal supplements have enough vitamin D for health during pregnancy.  Foods rich in vitamin D include milk, fortified soy/rice beverages, fatty fish and egg yolks. 
Omega 3 Fats
Omega-3 fats are important to help with the development of your baby's brain, eyes and nervous system. The best sources of omega 3 fats are found in fish and other sources include canola oil, walnuts and ground flax seeds.  Health Canada recommends consuming two servings of fish per week.  One serving of fish is 2.5 ounces (75g). Health Canada also provides recommendations for limiting exposure of certain types of fish for pregnancy due to mercury content.  For more information visit www.hc-sc.gc.ca.  
Fibre
Many women experience constipation during pregnancy since pregnancy hormones can slow down digestion and your growing baby puts pressure on your intestines making it difficult to have bowel movements.  Getting enough fibre can also help prevent hemorrhoids which are common in pregnancy.  For this reason be sure to increase your consumption of high fibre foods such as wheat bran cereals, bran muffins, fruits, vegetables, legumes, nuts and seeds. 
Fluids
Getting enough fluids during pregnancy is important to prevent constipation, build blood volume for your baby, supply nutrients to your baby and rid waste products away from your baby.  You need 3 litres (12 cups) of fluid per day during pregnancy.  You can count fluid from water, all beverages, soups and the water that is found abundantly in fruits and vegetables.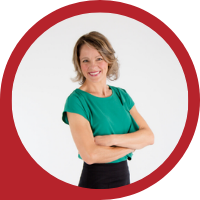 About Andrea Holwegner
CEO, Registered Dietitian, Counseling Practice Director & Professional Speaker
Andrea the «Chocolate Loving Nutritionist» is founder and CEO of Health Stand Nutrition Consulting Inc. since 2000. She is an online nutrition course creator, professional speaker and regular guest in the media. Andrea is the recipient of an award by the Dietitians of Canada: The Speaking of Food & Healthy Living Award for Excellence in Consumer Education....Read more