40% of Canadians Will Abandon Their Diet Completely This Holiday Season
How to manage 3 common dietary restrictions (calories, lactose & gluten)
A recent survey* by Udi's Healthy Foods identified that 40% of Canadians will abandon their diets this holiday season. The holidays are a particularly difficult time of year to be mindful of calories if you are trying to lose weight. They can also be challenging when it comes to managing two of the most common food sensitivities – lactose intolerance and gluten sensitivity. The good news is that with a little planning you can still enjoy the holidays and keep your nutrition on track too.
What are the top 5 ways Canadians plan to handle dietary challenges this holiday season?
Abandon their diet completely – 40 per cent
Eat as little as possible at holiday events – 36 per cent
Eat before going to holiday events – 8 per cent
Bring their own food – 5 per cent
Avoid holiday events if their dietary needs won't be met – 3 per cent
How can Canadians watching calories stay on track for their weight loss diet over the holidays?
Remember it is what you do between New Year's and Christmas that counts (not between Christmas and New Year's).
Consider keeping a food journal since research shows this is a very good tool for accountability and focus.
Choose not to give up anything but be really clear about what is the best of the best this holiday season.  Think about which events will have your favorite foods and choose to indulge on what is most unique and enjoyable. Embrace a philosophy of SOME rather than all or none.
Also be mindful of extra empty calories coming from beverages and mindless eating if you stand too close to the holiday appetizer tables.
Do your best to squeeze in more fitness and outdoor activity.
If you are entertaining how can you manage attendees with food restrictions?
It is courteous to ask in advance if attendees have any food restrictions. Realize that you don't need to cater the whole meal to individual restrictions or preferences but it is sure appreciated if at least some parts of the meal are accessible to everyone you are hosting.
For healthy holiday recipe ideas check out https://www.healthstandnutrition.com/resources/healthy-recipes-menus/
How can Canadians manage a lactose intolerance over the holidays?
Lactose is the carbohydrate found in dairy foods such as milk and yogurt.  A lactose intolerance is due to a lack of enough of the lactase enzyme and can result gas, bloating, cramping, nausea and diarrhea.
Reduce the amount of lactose containing foods you consume (some individuals can tolerate small amounts of milk or yogurt and cheese which contain less lactose).
Carry over-the-counter lactase enzyme supplements (pills or drops) for holiday meals and events where lactose containing foods are hard to avoid.
Try lactose hydrolyzed milk such as Lactaid or Lacteeze or soy milk, rice milk or almond milk for holiday recipes requiring milk.
How can Canadians manage a gluten sensitivity over the holidays?
Gluten is the protein found in wheat, rye, barley and cross-contaminated oats and those that have celiac disease must follow a gluten-free diet for life to avoid damaging their gut.  There are also individuals that have non-celiac gluten sensitivity and feel better avoiding gluten.
Be aware of top 10 hidden sources of gluten in holiday foods:
Packaged gravy mix
Packaged stuffing
Cranberry sauce
Pie filling
Pre-mixed spices and herbs
Broth / soup stock
Deli meat
Candied nuts
Eggnog and cocktail mixes
Candy and candy canes
Consider bringing a gluten-free appetizer to holiday parties.  Make a seasonal colored gluten-free flatbread pizza with fresh tomatoes, bocconcini cheese and basil.  Or brush the gluten-free pizza crust with pesto and top with spinach, broccoli, feta and cherry tomatoes. For more gluten-free recipe ideas check out www.UdisGlutenFree.com.
Try this delicious recipe from my colleague Stephanie Clairmont:
Apple Cranberry Brie Crostini
Recipe created by Stephanie Clairmont, MHSc, RD at The Clairmont Digestive Clinic courtesy of Udi's Gluten Free.
Udi's has the solution for gluten-free hors d'oeuvres with this tasty, easy and quick crostini. Crispy with warm, sweet apple and cranberry topping – it's sure to be a crowd pleaser.
Ingredients
| | | |
| --- | --- | --- |
| 1 | pack 2 Udi's Gluten Free-French Baguettes |   |
| 1 | Granny Smith apple, cored, halved and cut into ¼-inch slices |   |
| 1 wedge (150-200 ml) | brie cheese, cut into 1 ½ inch pieces |   |
| 1 cup (370 ml) | cooked or canned cranberries, drained |   |
| ¼ cup (50 ml) | roughly chopped pecans |   |
|   | raw honey to drizzle |   |
Instructions
Prepare Udi's French Baguettes according to package directions (do not over brown) and set aside to cool slightly. Turn baguettes on their side and gently slice with a serrated knife (be careful not to squish the bread) into 1-cm thick rounds and place on a baking sheet. Preheat an oven broiler to low. Place the baking sheet under the broiler to lightly toast the baguette rounds, about 1 minute. Remove from the oven and turn the rounds over. Top each with a slice of apple and a piece of brie. Return to the broiler for 1 minute, until the cheese just begins to melt. Top with a spoonful of the cranberries, a sprinkling of pecans, and drizzle with a little honey. Broil a further minute. Serve immediately.
Makes 16 to 18 crostini
---
*Survey Methodology
From July 19th to July 22nd 2013 an online survey was conducted among 2,530 randomly selected Canadian adults who are Angus Reid Forum panelists. The margin of error—which measures sampling variability—is +/- 1.95%, 19 times out of 20. The results have been statistically weighted according to education, age, gender and region (and in Quebec language) Census data to ensure a sample representative of the entire adult population of Canada. Discrepancies in or between totals are due to rounding.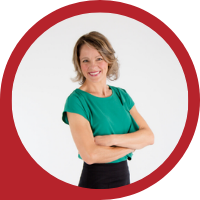 About Andrea Holwegner
CEO, Registered Dietitian, Counseling Practice Director & Professional Speaker
Andrea the «Chocoholic Nutritionist» is founder and CEO of Health Stand Nutrition Consulting Inc. since 2000. She is an online nutrition course creator, professional speaker and regular guest in the media. Andrea is the recipient of an award by the Dietitians of Canada: The Speaking of Food & Healthy Living Award for Excellence in Consumer Education....Read more