Adding more exercise may do little to help weight loss. Key to weight loss is nutrition change.
By Andrea Holwegner BSc, RD "The Chocoholic Dietitian"  www.healthstandnutrition.com  
Over the years, Craig's weight had gotten so high he stopped weighing himself because he couldn't bear to look at the number. A friend of his, concerned about his laboured breath and evident fatigue, had convinced Craig to buy a treadmill for his home.
Tired of being the fat guy, Craig began the very difficult task of working up a sweat on the treadmill almost every day. Several months into his new exercise regime – and having lost virtually no weight – he wondered why the scale refused to budge.
If you are overweight or obese and have a New Year's resolution to lose weight, adding more exercise can improve your overall health and cardiovascular fitness, but it may do little to drop the number on the scale.
A 2011 article published in the American Journal of Medicine reviewed 14 trials and 1,847 patients, and found that moderately intense exercise programs of six months only resulted in a 1.6-kilogram weight loss and 2.12-centimetre decrease in waist circumference. Similar programs of a year didn't offer much difference (1.7-kg and 1.95cm decrease).
If you have a substantial amount of weight to lose, these small losses may feel like plenty of hard work without getting a paycheque. This may be one of the reasons fitness facilities are so busy in the New Year and then see a large drop-off in the months to come.
No results, no motivation to continue.
Research over the years consistently shows that although you can lose small amounts of weight by initiating an exercise program, much bigger weight-loss results come from nutrition changes. Even better, using a combination of reducing your calorie intake and adding exercise can offer slightly better weight-loss results than nutrition alone.
So if exercise alone isn't the best strategy to lose weight, you might wonder how someone you know has lost plenty of weight simply by exercising more. One theory is that this has more to do with the influence exercise has on reducing your intake (calories in) than the calories burned during exercise (calories out).
A 2011 article in the Journal of Obesity suggested that metabolic, hormonal and psychological changes are involved. Exercise can help improve your overall mood and stress response, which can help you tackle emotional eating and regulate how much you eat. Physical activity also helps combat depression and sleep issues, which in recent years have been linked to higher risk of obesity.
Also, while exercise alone may do little to help you lose extra pounds, research shows that exercise is one of the best ways to prevent weight gain and also to maintain weight loss over the long run.
Where to start
1.  If you have a large amount of weight to lose, you could begin a new eating plan as well as a new fitness regime at the same time – but I would encourage you to start with one or the other.
2.  It's very challenging to successfully start and maintain both areas of change, especially when you are living a real life with big family and work commitments. Go easy on yourself and commit to one major lifestyle change at a time.
3.  Start with your nutrition first, since the research shows you can begin seeing faster changes on the scale, which can be more motivating to continue on your journey to better health.
4.  Once you see the changes in your body from improved nutrition, it can be psychologically as well as physically easier to get going on a healthy exercise plan for life.
ANDREA HOLWEGNER IS THE CHOCOHOLIC DIETITIAN, AND OWNS HEALTH STAND NUTRITION CONSULTING INC. VISIT WWW.HEALTHSTANDNUTRITION.COM OR PHONE 403-262-3466 FOR NUTRITION COUNSELLING, SPEAKING ENGAGEMENTS AND TO SUBSCRIBE TO HER FREE MONTHLY EZINE. TWITTER: @CHOCOHOLICRD.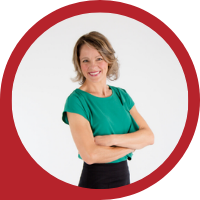 About Andrea Holwegner
CEO, Registered Dietitian, Counseling Practice Director & Professional Speaker
Andrea the «Chocoholic Nutritionist» is founder and CEO of Health Stand Nutrition Consulting Inc. since 2000. She is an online nutrition course creator, professional speaker and regular guest in the media. Andrea is the recipient of an award by the Dietitians of Canada: The Speaking of Food & Healthy Living Award for Excellence in Consumer Education....Read more