Solutions for 5 After School Snack Challenges
After school is one of most challenging times for parents and caregivers to manage healthy eating with kids. Children are often ravenous, extracurricular activities demand fast items on the go and you may be dealing with junk food requests, picky eating or food restrictions such as a lactose intolerance, gluten sensitivity or peanut allergy. Here are some solutions to help:
Challenge #1: Ravenous Hunger
Many kids rank after school as the hungriest time of the day for them. It is tricky to balance feeding them enough to satisfy their hunger but not interfere with supper. This is a great time of day to fill in the foods your kids are getting the least of. For example, if your child eats less veggies or protein rich foods at school then these are good options after school. Offer vegetable soup and a wedge of cheese, a veggie platter and hummus or fruit and yogurt smoothies with added spinach, kale (or even sneak in leftover steamed cauliflower/carrots).
Challenge #2: Portability & Speed
Extracurricular activities such as sports, music and dance often mean that snacks need to be planned and packed ahead for speedy consumption in the car. Try a small tortilla with nut butter rolled around a banana or mini homemade muffins and cubes of cheese or a hard cooked egg. Plan ahead to make a bunch of quick grab containers of snack mix containing dried fruit, nuts/seeds, dry non-sugary cereal and whole grain crackers.
Challenge #3: Junk Food Requests
You can help teach kids how to manage junk food in a balanced way by role modelling what moderation looks like yourself. You do not need to ban junk food from your house or you may find your child goes to a friend's house and eats a dozen cookies. On the other hand, remember that your child doesn't need treats in their lunch, candy after school and dessert after supper every day. Give them a choice "would you like to have your cookies in your lunch or save them for after school?"
As a kid, I didn't have treats every day and I didn't feel deprived. I just simply accepted the rules. My mom occasionally bought pop and chips for movie nights and sugary cereals were only for camping trips. We regularly had yummy homemade treats that had good nutrition built into them such as oatmeal raisin cookies, banana chocolate chip muffins or apple crisp, which is far more nutritious than many highly processed foods marketed to kids.
Challenge #4: Picky Eating & Food Jags
One of the best ways to manage picky eating and food jags (wanting to eat the same thing over and over) is to frame the choice but let them choose. Don't ask them what they want for a snack since you may not like the answer. I know when I ask my four-year old son what he wants to eat for a snack he will provide me with the same answers of his favorite foods. When I give him two of my choices that involve daily variety it is a win-win for all of us since he independently gets to choose. If your child keeps asking for the same things you can remind them that our body needs different nutrients each day and they need to pick something new today and they can choose a favourite tomorrow.
Challenge #5: Lactose Intolerance, Gluten Sensitivity or Peanut Allergy
Navigating food choices that work around some of the most common food restrictions such as a lactose intolerance, gluten sensitivity or peanut allergy can be a challenge but is certainly not impossible. Here are a few after school snack ideas that will fit the needs of all three of these food restrictions:
Celery with Wowbutter (tastes like peanut butter but is completely peanut free) and raisins
Glass of calcium fortified soy/almond/rice beverage and apple or pear slices with cinnamon.
Gluten-free crackers, gluten/dairy/nut free hummus with raw veggies such as carrots, grape tomatoes and snap peas.
Parfait with berries, coconut yogurt and gluten/nut free granola/cereal.
French toast kabobs (see recipe).
French Toast Kabobs or Bento Box
1/4 cup all-purpose gluten-free flour
1 cup calcium fortified rice/soy/almond milk beverage
1 pinch salt
3 eggs
1/2 tsp ground cinnamon
1 tsp pure vanilla extract
1 tbsp brown sugar|
12 slices Udi's gluten-free bread
Directions:
Measure flour into a large mixing bowl. Slowly whisk in the milk. Whisk in the salt, eggs, cinnamon, vanilla and sugar until smooth. Heat a lightly oiled griddle or frying pan over medium heat. Soak bread slices in mixture until saturated. Cook bread on each side until golden brown. Slice into squares for kabobs and thread on skewers mixed with cubed fruit. Alternatively serve this bento-box style with toothpicks (one container filled with the French toast bites, another filled with cut up fresh fruit and another filled with maple syrup or jam for dipping).
Recipe adapted from www.udisglutenfree.com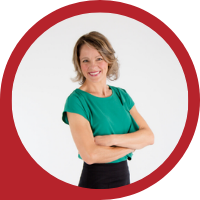 About Andrea Holwegner
CEO, Registered Dietitian, Counseling Practice Director & Professional Speaker
Andrea the «Chocolate Loving Nutritionist» is founder and CEO of Health Stand Nutrition Consulting Inc. since 2000. She is an online nutrition course creator, professional speaker and regular guest in the media. Andrea is the recipient of an award by the Dietitians of Canada: The Speaking of Food & Healthy Living Award for Excellence in Consumer Education....Read more