Almond Blueberry French Toast Casserole
Enjoy this for breakfast or as a weekday supper meal
This is a tasty make ahead recipe you can serve for brunch or a 'breakfast for supper' theme. You can also cook this recipe on the upper rack of your BBQ on hot summer days or bring this along to heat up on a grill over the campfire when camping this summer. This makes a big recipe so feel free to cut the quantities below in half or cut the extras into squares and freeze in single servings to reheat on busy mornings.
Makes 12 servings
What you need:
1 loaf of whole wheat bread cut into 1-inch cubes
12 eggs
2 cups (500 ml) 1% milk (or milk of your choice)
2 tsp pure vanilla extract
1/2 tsp cinnamon
2.5 cups fresh or frozen blueberries, divided
1/3 cup sliced or slivered almonds
2 tbsp brown sugar
How you make it:
Place cut up pieces of bread in a greased 9 by 13 inch baking pan.
Mix 1/2 cup of blueberries into the cubed bread.
Whisk together the eggs, milk, vanilla and cinnamon and pour overtop the bread evenly so that the liquid is soaked up into the bread.
Scatter the blueberries, almonds and brown sugar on top and refrigerate overnight if you like or bake right away.
Bake uncovered at 350 F for 40-50 minutes until done.
Serve warm with a drizzle of maple syrup and Greek vanilla yogurt.
Nutrients Per Serving:
250 Calories
29 g Carbohydrate
14 g Protein
8.4 g Fat
4.4 g Fibre
We hope you've enjoyed this recipe for almond blueberry french toast casserole! Let us know in the comments what you think and also which other fruits you think this may be tasty with other than blueberries.
Looking for more simple meal planning tips and healthy recipes for a healthier lifestyle?
Sign up for our weekly newsletter for a healthy recipe of the week (and nutrition articles and videos with a balanced living philosophy to help encourage healthy habits but still save room for your favorites). Our nutrition newsletter is written by the Calgary Nutritionists on our team who each hold a professional Registered Dietitian license to ensure you are getting credible advice.
Click here to sign-up for our free weekly nutrition newsletter: Nutrition Newsletter by our Calgary Nutritionist / Online Dietitian team.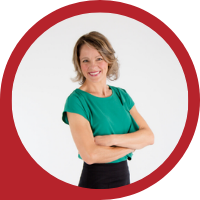 About Andrea Holwegner
CEO, Registered Dietitian, Counseling Practice Director & Professional Speaker
Andrea the «Chocolate Loving Nutritionist» is founder and CEO of Health Stand Nutrition Consulting Inc. since 2000. She is an online nutrition course creator, professional speaker and regular guest in the media. Andrea is the recipient of an award by the Dietitians of Canada: The Speaking of Food & Healthy Living Award for Excellence in Consumer Education....Read more