Apple Cheese Omelette
Created by the Egg Farmers of Canada
Makes 1 serving
Prep: 10 min.
Cook: 10 min.
What you need:
1 tsp butter
½ medium apple, peeled, cored and thinly sliced or chopped
1/4 tsp ground cinnamon
1 tsp brown or granulated sugar
2  eggs
1 tbsp  water
Pinch of salt
2 tbsp  shredded Cheddar or Swiss cheese
How to prepare:
Melt butter in 8-inch (20 cm) nonstick skillet over medium heat. Add apple slices; cook for 3 minutes, stirring frequently. Sprinkle cinnamon and 1 tsp (5 mL) sugar over apples. Cook, turning slices frequently, until tender, 4 to 5 minutes.
Whisk eggs, water, and salt in small bowl. Pour over apples in skillet.
As mixture sets around edge of skillet, with spatula, gently lift cooked portions to allow uncooked egg to flow underneath. Poke between a few apple slices to allow uncooked egg to flow to bottom of pan. When egg is almost set on surface, sprinkle cheese over half of omelette. Fold unfilled side of omelette over filling. Cook for a minute, then slide onto serving plate.
Nutrients per Serving:
Calories 275
Fat 17 g
Saturated Fat 7 g
Trans Fat 0 g
Sodium 400 mg
Carbohydrate 18 g
Fibre 1 g
Sugars 13 g
Protein 17 g
Recipe used with permission from the Egg Farmers of Canada. Visit www.eggs.ca for more great recipes.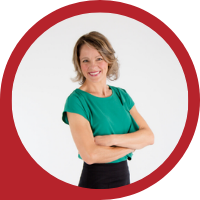 About Andrea Holwegner
CEO, Registered Dietitian, Counseling Practice Director & Professional Speaker
Andrea the «Chocoholic Nutritionist» is founder and CEO of Health Stand Nutrition Consulting Inc. since 2000. She is an online nutrition course creator, professional speaker and regular guest in the media. Andrea is the recipient of an award by the Dietitians of Canada: The Speaking of Food & Healthy Living Award for Excellence in Consumer Education....Read more