Asian Chicken Salad Bowls Recipe
Healthy Registered Dietitian Approved Family Recipe!
This healthy recipe works great for families as you can place the ingredients in separate bowls and allow each family member to select their favorite ingredients.  

Makes 4 servings
What you need:
Salad ingredients:
12 ounces cooked chicken breast, thinly sliced or diced
3 cups cooked rice noodles (6 ounces dry)
2 cups carrots, grated or julienned
2 cups cucumbers, julienned or sliced in matchsticks
2 cups yellow or red pepper, thinly sliced
1/2 cup green onions, diced
1/2 cup cilantro, chopped (optional)
1/2 cup peanuts, crushed
Vinaigrette:
1 tbsp natural peanut butter
1/2 cup rice wine vinegar
2 tbsp soya sauce
2 tbsp hoisin sauce
2 tsp sugar
2 tsp ginger root, grated or minced
Hot red chili peppers (optional)
How you prepare:
Stir-fry or grill chicken breast until cooked (alternatively as a time-saver use leftover chicken from the day before) and slice.
Cook the rice noodles, rinse and set aside in a bowl.
In separate piles on a cutting board slice/prepare carrots, cucumbers, peppers, green onions, and cilantro.
Stir together vinaigrette ingredients in a small bowl.
Toss rice noodles with a small amount of vinaigrette and place in four bowls.  Top each bowl with chicken, carrots, cucumbers, peppers, green onions, cilantro, and peanuts and drizzle a bit more vinaigrette.
Nutrient Facts per Serving:
510 Calories
38 g Protein
58 g Carbohydrate
14 g Fat
6 g Fibre
Looking for more healthy eating recipes? Sign up for our weekly newsletter for a healthy recipe of the week (and nutrition articles and videos with a balanced living philosophy to help encourage healthy habits but still save room for your favorites). Our nutrition newsletter is written by the Calgary Nutritionists on our team who each hold a professional Registered Dietitian license to ensure you are getting credible advice.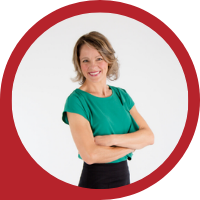 About Andrea Holwegner
CEO, Registered Dietitian, Counseling Practice Director & Professional Speaker
Andrea the «Chocolate Loving Nutritionist» is founder and CEO of Health Stand Nutrition Consulting Inc. since 2000. She is an online nutrition course creator, professional speaker and regular guest in the media. Andrea is the recipient of an award by the Dietitians of Canada: The Speaking of Food & Healthy Living Award for Excellence in Consumer Education....Read more