Avocado, Mango, and Black Bean Salad on Wilted Kale Recipe
Avocado, Mango, and Black Bean Salad on Wilted Kale
This delicious salad involves some chopping and dicing, and makes a tasty side dish to your next family taco night, or makes a full meal salad on it's own. Make 4 servings
Recipe from    www.NutritionMonth2018.ca
What you need:
1/2  medium bunch kale – stems removed and finely chopped
1 – 14 oz. (398 ml) can black beans (no added salt) – drained and rinsed
1 mango – peeled, pitted, diced
1/2 medium red onion – diced
1 ripe avocado from Mexico – peeled, pitted and diced
2-3 Tbsp  crushed unsalted peanuts
The juice of one lime
2 Tbsp extra virgin olive oil (EVO)
2 tsp honey
2-3 dashes Tabasco (or to desired taste)
Pinch of salt
Pinch of red pepper flakes
How to make:
In a small bowl whisk together lime juice, EVO, honey, tabasco, salt, and red pepper flakes.
Remove the stems from the kale and discard. Finely chop the kale (the smaller the better).
Wash the kale and spin dry. Place dried kale into a large salad bowl. Add about ⅓ of the dressing to the kale and toss with salad tongs or massage with hands for about 1 minute. Make sure it is evenly coated. Let the kale sit in the fridge while you do the next step.
Drain and rinse black beans and place in a medium sized bowl.
Remove skin and pit of mango and dice.
Remove the outer skin and ends of the onion and dice.
Add the mango, onion, and the remainder of the dressing to the black beans and toss until ingredients are evenly distributed. Remove the kale from the fridge. Place the bean mixture on top of the kale. Sprinkle the diced avocados over the bean mixture and then the crushed peanuts over the whole salad.
Per serving (one of 4):
Calories – 282
Fat – 15.4 g
Saturated 2.1 g  + Trans / trans 0 g
Sodium – 29 mg
Carbohydrates – 32.4 g
Fiber – 8.4 g
Protein – 8.1 g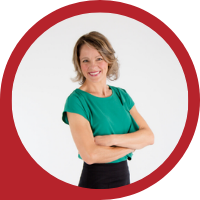 About Andrea Holwegner
CEO, Registered Dietitian, Counseling Practice Director & Professional Speaker
Andrea the «Chocolate Loving Nutritionist» is founder and CEO of Health Stand Nutrition Consulting Inc. since 2000. She is an online nutrition course creator, professional speaker and regular guest in the media. Andrea is the recipient of an award by the Dietitians of Canada: The Speaking of Food & Healthy Living Award for Excellence in Consumer Education....Read more