B.E.A.T. In a Pocket
Created by the Egg Farmers of Canada
Makes: 4 servings
Prep: 8 min.
Cook: 5 min.
What you need:
2 slices reduced salt bacon, cooked and chopped
4 eggs
1/8 tsp pepper
2 whole wheat pita pockets
1/2 avocado, diced
1 tomato, sliced
How you prepare:
Warm bacon in non-stick skillet over medium heat.
Whisk eggs and pepper in small bowl; pour into skillet. As eggs begins to set, gently move spatula across bottom and sides of skillet to form large, soft curds. Cook until eggs are thickened and no visible liquid egg remains.
Cut pitas in half; open halves and place tomato slices inside. Spoon in scrambled eggs and avocado.
Variations:
Cheese B.E.A.T.: Instead of bacon, use 2 oz (60 g) sliced Brie or shredded Cheddar or mozzarella cheese.
Veggie B.E.A.T.: Instead of avocado and tomato, add texture by using one small chopped sweet red or green pepper and one grated carrot.
B.E.A.T. in a Tortilla: Instead of pita bread, use whole wheat tortillas. Roll up scrambled eggs, tomatoes and avocado inside tortilla.
Nutrients per serving:
Calories 223
Fat 11 g
Saturated Fat 3 g
Trans Fat 0 g
Sodium 244 mg
Carbohydrate 22 g
Fibre 3 g
Sugars 1 g
Protein 12 g
Recipe used with permission from the Egg Farmers of Canada. Visit www.eggs.ca for more great recipes.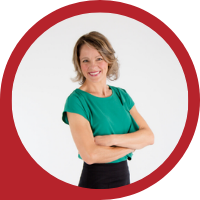 About Andrea Holwegner
CEO, Registered Dietitian, Counseling Practice Director & Professional Speaker
Andrea the «Chocolate Loving Nutritionist» is founder and CEO of Health Stand Nutrition Consulting Inc. since 2000. She is an online nutrition course creator, professional speaker and regular guest in the media. Andrea is the recipient of an award by the Dietitians of Canada: The Speaking of Food & Healthy Living Award for Excellence in Consumer Education....Read more