Baked Cinnamon French Toast
Created by the Egg Farmers of Canada
Makes 6 servings
Prep: 10 min.
Cook: 30 min.
What you need:
6 slices white, whole wheat or raisin bread
1 tsp ground cinnamon
3 eggs
1/2 cup milk (1%)
1/2 cup maple syrup or table syrup
2 tbsp butter or margarine
1 tsp vanilla extract
*Fruit and maple syrup (optional)
How to prepare:
Preheat oven to 350°F (180°C).
Spray 13 x 9-inch (33 x 23) baking dish with cooking spray. Arrange bread slices to fit in single layer in dish; sprinkle cinnamon over bread.
Whisk eggs, milk, syrup, butter and vanilla in medium bowl just until blended. Pour evenly over bread. Bake immediately or cover and refrigerate several hours or overnight.
Bake, uncovered, in preheated 350°F (180°C) oven until firm to the touch, about 30 minutes. Serve with fruit and maple syrup, if desired.
Per Serving:
Calories 218
Fat 8 g
Saturated Fat 4 g
Trans Fat 0 g
Sodium 207 mg
Carbohydrate 32 g
Fibre 1 g
Sugars 18 g
Protein 6 g
Recipe used with permission from the Egg Farmers of Canada. Visit www.eggs.ca for more great recipes.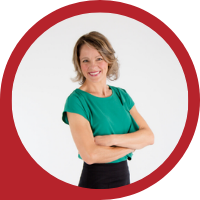 About Andrea Holwegner
CEO, Registered Dietitian, Counseling Practice Director & Professional Speaker
Andrea the «Chocoholic Nutritionist» is founder and CEO of Health Stand Nutrition Consulting Inc. since 2000. She is an online nutrition course creator, professional speaker and regular guest in the media. Andrea is the recipient of an award by the Dietitians of Canada: The Speaking of Food & Healthy Living Award for Excellence in Consumer Education....Read more