Balsamic Strawberry Asparagus Salad Recipe
Fresh Spring & Summer Salad Recipe from our Dietitian Calgary Office
This easy balsamic strawberry asparagus salad recipe takes advantage of fresh seasonal produce, as well as using the BBQ to roast the asparagus. With a drizzle of balsamic reduction, and fresh basil, this side dish is a great blend of spring or summer flavours. Serve with grilled meat, poultry, seafood or tofu and whole grain garlic toast for a balanced meal.
Servings: 6 servings
What you need:
1 pound asparagus, ends trimmed
1 tablespoon olive oil
1 cup balsamic vinegar
20 medium strawberries, sliced
10 leaves basil, chopped
salt and pepper to taste
How to make:
Prepare balsamic vinegar reduction by bringing the balsamic vinegar to boil in a saucepan and then lower the temperature and simmer until reduced by half. (you can also purchase bottles of reduced balsamic vinegar often known as "balsamic reduction" as a time-saving option.
Preheat BBQ to high heat.
Drizzle olive oil over asparagus, and grill for 3 – 5 minutes.
Divide asparagus among the plates and top with sliced berries, basil, and salt and pepper.
Use a spoon to drizzle each serving of asparagus with the balsamic syrup
Per Serving:
Calories 48
Fat 0.01 g
Carbohydrates 5.5 g
Dietary Fibre 1.5 g
If you are seeking support to help to make meal planning simple if you are cooking for one, don't want to spend oodles of time in the kitchen or find yourself eating out often, we can help. We specialize in health without guilt or complexity. Our Dietitian Calgary team can work with you in person at our Calgary nutrition office or online through our virtual private and secure video conferencing services. Contact Us.
For more information about our Dietitian Calgary / Online Nutritionist services by our experienced nutrition counseling team visit: NUTRITION COUNSELING or our Digital Online Program The Pursuit of Healthiness: ONLINE NUTRITION COURSE.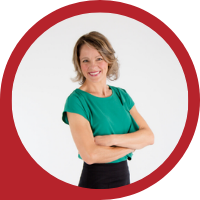 About Andrea Holwegner
CEO, Registered Dietitian, Counseling Practice Director & Professional Speaker
Andrea the «Chocoholic Nutritionist» is founder and CEO of Health Stand Nutrition Consulting Inc. since 2000. She is an online nutrition course creator, professional speaker and regular guest in the media. Andrea is the recipient of an award by the Dietitians of Canada: The Speaking of Food & Healthy Living Award for Excellence in Consumer Education....Read more