Barley & Lentil Salad with Kale, Apples, Almonds, & Feta
Recipe courtesy of Lentils.ca.  So many nutritious foods in one bowl!
Makes 14 servings
Preparation Time:  15 minutes
What you need:
2 ½ – 3 cups water
½ cup green lentils
½ cup pearl or pot barley
1 garlic clove, finely grated or crushed
2 – 3 cups finely chopped kale or spinach, tough stems discarded
1 tart apple, cored and diced
½ cup crumbled feta
¼ cup finely chopped purple onion
Vinaigrette:
1/3 cup canola oil
2 Tbsp lemon juice
2 Tbsp white wine or rice vinegar
2 tsp grainy mustard
1 tsp honey or granulated sugar
¼ tsp freshly ground black pepper
1/3 cup chopped toasted almonds
How you prepare:
In a large saucepan, combine water, lentils, barely, and garlic. Boil for 20 minutes or until tender.  Drain well, discarding the garlic, and set aside to cool completely.
In a bowl, combine lentils and barely with kale, apple, feta, and purple onion.
To prepare vinaigrette: In a small bowl, whisk together canola oil, lemon juice, vinegar, mustard, honey, salt, and pepper.  Pour over the salad and toss to combine.  Top with almonds just before serving.
Per serving:
Calories 180
Carbohydrates 21 g
Protein 6 g
Fat 8 g
Dietary Fiber 5 g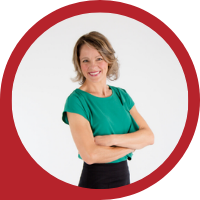 About Andrea Holwegner
CEO, Registered Dietitian, Counseling Practice Director & Professional Speaker
Andrea the «Chocoholic Nutritionist» is founder and CEO of Health Stand Nutrition Consulting Inc. since 2000. She is an online nutrition course creator, professional speaker and regular guest in the media. Andrea is the recipient of an award by the Dietitians of Canada: The Speaking of Food & Healthy Living Award for Excellence in Consumer Education....Read more