Barley and Lentil Salad with Kale, Apples, Almonds, & Feta
Tangy, sweet, hearty, and packed full of incredible nutritious ingredients
Recipe courtesy of Lentils.ca.  So many nutritious foods in one bowl!
Take your salad game to the next level with this delicious barley, lentil, and kale salad, topped with apple, almonds, and feta cheese. Serve the homemade vinaigrette over top and toss it together for a healthy dinner or lunch everyone will love! It only takes 15 minutes to prepare and you can leave out the dressing and instead pack it in a small container if you prefer to take it for lunch the next day.
Did you know lentils are grown in Canada? They are also highly versatile and can be made and added to many of your favourite foods, such as bolognese sauce, lasagna, or soups and salads. They are also high in fiber and protein making them a great addition to a healthy diet. When combined with whole grains such as barley, just 1/2 cup of lentils amounts to 12 grams of protein! Lentils are also rich in potassium, folate, manganese, and iron which are important vitamins and minerals that support proper growth and development.
Barley has been cultivated for over 10,000 years! It has a deliciously mild, sweet, and nutty flavour and a slightly chewy texture. Barley is also high in beta-glucan, a type of soluble fiber that has been found to reduce cardiovascular disease and high cholesterol. Barley is also rich in protein, phosphorus, zinc, manganese, and B vitamins, making it a great addition to this incredible salad. Enjoy!
Makes 14 servings
Preparation Time:  15 minutes
What you need:
Barley and Lentil Salad Ingredients
2 ½ – 3 cups water
½ cup green lentils
½ cup pearl or pot barley
1 garlic clove, finely grated or crushed
2 – 3 cups finely chopped kale or spinach, tough stems discarded
1 tart apple, cored and diced
½ cup crumbled feta
¼ cup finely chopped purple onion
Vinaigrette:
1/3 cup canola oil
2 Tbsp lemon juice
2 Tbsp white wine or rice vinegar
2 tsp grainy mustard
1 tsp honey or granulated sugar
¼ tsp freshly ground black pepper
1/3 cup chopped toasted almonds
How to Prepare the Barley and Lentil Salad:
Directions
In a large saucepan, combine water, lentils, barely, and garlic. Boil for 20 minutes or until tender.  Drain well, discard the garlic, and set aside to cool completely.
In a bowl, combine the lentils and barely with kale, apple, feta, and purple onion.
To prepare vinaigrette: In a small bowl, whisk together canola oil, lemon juice, vinegar, mustard, honey, salt, and pepper.  Pour over the salad and toss to combine.  Top with almonds just before serving.
Per serving:
Calories 180
Carbohydrates 21 g
Protein 6 g
Fat 8 g
Dietary Fiber 5 g
Looking for more simple meal-planning tips and healthy recipes?
Sign up for our weekly newsletter for a healthy recipe of the week and nutrition articles and videos with a balanced living philosophy to help encourage healthy habits but still save room for your favourites. Our nutrition newsletter is written by the Calgary Nutritionists on our team who each hold a professional Registered Dietitian license to ensure you are getting credible advice.
Click here to sign-up for our free weekly nutrition newsletter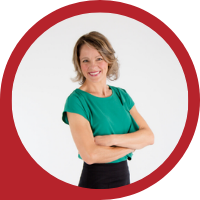 About Andrea Holwegner
CEO, Registered Dietitian, Counseling Practice Director & Professional Speaker
Andrea the «Chocolate Loving Nutritionist» is founder and CEO of Health Stand Nutrition Consulting Inc. since 2000. She is an online nutrition course creator, professional speaker and regular guest in the media. Andrea is the recipient of an award by the Dietitians of Canada: The Speaking of Food & Healthy Living Award for Excellence in Consumer Education....Read more