Bean Croquettes
New to legumes? This simple recipe can be made in 20 minutes.
Recipe adapted from Mark Bittman's How to Cook Everything Vegetarian
Makes 4 servings
What you need:
2 cups of canned white or other beans (cannellini, black beans, chickpeas, pinto beans)
½ cup finely diced onion
¼ cup chopped parsley or other herb
1 egg lightly beaten
Salt and pepper to taste
½ cup of coarse cornmeal or bread crumbs
Canola, olive or avocado oil for pan-frying
How you prepare:
1. Add the beans with a splash of water to a food processor or blender and blend until the beans reach a chunky texture.
2. Mix the beans with the onion, herb of your choice, egg, salt and pepper. Add the cornmeal or breadcrumbs 1 tbsp. at a time, until you have made a batter you can shape with your hands without it sticking.
3. Cover the bottom of a skillet with about 1/8 inch of oil and turn on to medium heat. When the oil is hot, put the patties in the skillet and cook until browned on all sides (about 7-8 minutes).
Mexican variation: Use black beans and cilantro for your herb. Add in 2 tsp. of ground cumin and a dash of hot sauce in step 2. Serve with salsa.
Asian variation: Use adzuki beans; add 1 tbsp. of minced garlic and minced ginger in step 2. Omit the parsley and serve with peanut sauce and sliced cucumbers.
All-American variation: Use canned beans in BBQ sauce. Coat the patties with crushed tortilla chips before cooking.
Per serving:
Calories: 188
Carbohydrates: 30.2g
Protein: 11.2g
Fat: 3g
Fibre: 7g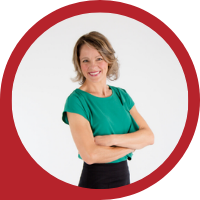 About Andrea Holwegner
CEO, Registered Dietitian, Counseling Practice Director & Professional Speaker
Andrea the «Chocolate Loving Nutritionist» is founder and CEO of Health Stand Nutrition Consulting Inc. since 2000. She is an online nutrition course creator, professional speaker and regular guest in the media. Andrea is the recipient of an award by the Dietitians of Canada: The Speaking of Food & Healthy Living Award for Excellence in Consumer Education....Read more