How To Beat High Cholesterol With Your Diet
How To Beat High Cholesterol With Your Diet
February 2017: the written content below has been updated to reflect new research relevant to this article.
When Dave received the results from his annual medical checkup, he was surprised to learn that his blood cholesterol levels were high. His doctor wanted him to lose a few pounds and watch his fat intake to see if he could improve his blood cholesterol levels in the next six months. If he couldn't, then his doctor wanted to discuss medication options.
Dave's dad had died of a heart attack, so it was important to him to get the facts about this key health issue.
If you are like Dave and thought reducing your cholesterol levels was just about eating less fat, you might be interested to learn five important strategies.
1. The type of fat in your diet is more significant than the amount
Research has shown that when people consumed healthy levels of monounsaturated and polyunsaturated fats, they often had lower risk of heart disease and better blood cholesterol levels than those who consume low-fat diets.
Nuts, seeds, avocado, olive oil and other vegetable oils that are liquid at room temperature are heart-healthy fats. Fatty fish such as salmon contain the best sources of omega-3 fat. Aim to consume fish two to three times per week. If you don't eat enough fish, consider taking a fish oil omega-3 supplement and/or eat hemp seeds, ground flax seeds or omega-3 eggs.
2. Fibre is good for digestive health and also reduces cholesterol
For years Dave had heard that oatmeal and bran were good for keeping you regular, but he hadn't realized high-fibre foods, particularly those rich in soluble fibre such as bran cereals with psyllium, reduce cholesterol.
Consume oats, bran cereals and/or beans/legumes every day. Eat at least three pieces of fruit daily and have good portions of a variety of veggies more than once a day.
3. Reduce trans fat and be mindful of saturated fat
Dave didn't consume much processed food or fast food, but he did need to be mindful of the portion sizes of high-fat meats he was consuming. He switched to stronger cheese with more flavour, for example, so he could use less without sacrificing taste.
Trans fats are a particularly negative class of fat found in packaged and processed foods such as deep fried items, commercial baked goods and pastries. Read food labels and be sure to limit — if not avoid — foods that contain hydrogenated vegetable oil and shortening.
Traditionally it was thought that saturated fat was harmful for heart health.  Saturated fats are found in heavily marbled meats, the skin on poultry, butter, margarine, tropical oils (coconut oil, palm oil, cocoa butter), and high fat-dairy foods such as cheese.  Newer research has found that saturated fats may or may not increase the 'bad' LDL-cholesterol in the body, which harms heart health. Part of the reason that there may be some conflicting results depends on which foods are being replaced for saturated fat.  Monounsaturated fats (found in olive oil, nuts and avocado) as well as omega-3 fats (found in fish) when replaced for saturated fat is beneficial for heart health.  Health depends on the quality of your whole diet, not just the type of fat or any other single nutrient.  Rather than focusing on counting grams of fat, focus first on eating wholesome foods your grandmother would recognize that contain simple ingredients.
4. When looking at a food label, investigate trans fat and saturated fat rather than dietary cholesterol
There is a common myth that if you have high blood cholesterol levels you should avoid foods high in cholesterol such as shrimp or eggs. There is no Canadian recommendation to eat less dietary cholesterol, nor does the Dietary Reference Intakes report by the Institute of Medicine specify a target level for dietary cholesterol.
Most people with or without high cholesterol levels can have an egg a day without influencing their blood cholesterol levels. It is far more significant to reduce trans fats and saturated fats in your diet.
5. Other lifestyle factors can make a difference
You likely already know that quitting smoking, getting enough exercise, and managing stress are also important for your heart health. Did you know that even losing 10 pounds if you are overweight can also make a difference?
One of the single most effective ways Dave was able to reduce his cholesterol was committing to lose those 10 pounds. While he still has more weight loss that would benefit his health, even small changes can help.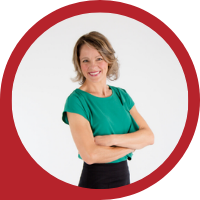 About Andrea Holwegner
CEO, Registered Dietitian, Counseling Practice Director & Professional Speaker
Andrea the «Chocolate Loving Nutritionist» is founder and CEO of Health Stand Nutrition Consulting Inc. since 2000. She is an online nutrition course creator, professional speaker and regular guest in the media. Andrea is the recipient of an award by the Dietitians of Canada: The Speaking of Food & Healthy Living Award for Excellence in Consumer Education....Read more