Beef Steak and Lentil Salad
Go ahead, rub it in – the Italian herb and garlic mixture that is! Then take your herbed steaks out to the barbecue, grill them to taste with asparagus, red pepper, garlic and zucchini and toss them together with a tangy mix of marinated lentils.

Recipe courtesy of Canadian Beef – www.makeitbeef.ca
Makes 4 servings 
What you need:
1 tsp (5 mL) EACH Italian seasoning, coarsely ground pepper
1/8 garlic powder
1 lb (0.45 kg) Beef Grilling Steak (e.g. Strip Loin or Top Sirloin), 1-inch thick
SALAD:
1/2 cup (125 mL) minced red onion
1/4 cup (50 mL) EACH olive oil and chopped fresh basil
2 cloves garlic, minced fresh or roasted mashed
2 Tbsp (30 mL) red wine vinegar
1/2 tsp (2 mL) EACH salt and dried oregano
2 cups (500 mL) assorted grilled vegetables (e.g. zucchini, sweet red pepper, asparagus, etc.), cut into chunks
2 plum tomatoes, seeded and chopped
1 can (540 mL) lentils, drained and rinsed
1 jar (170 mL) marinated artichoke hearts, drained and coarsely chopped
Salt to taste (optional)                          
How you prepare:
Combine pepper, Italian seasoning and garlic powder in small bowl, Rub mixture over steak; let stand for 15 minutes.
Meanwhile whisk together oil, red onion, garlic, vinegar, basil, salt and oregano in large salad bowl. Add grilled vegetables, tomatoes, lentils and artichoke hearts. Gently toss together and season to taste.
Grill steak over medium-high heat for 4 to 7 minutes per side for medium doneness (160°F/71°C). Let stand for 5 minutes. Cut steak into thin slices; serve with lentil mixture.
Per serving:
Calories: 518
Carbohydrates: 36.6 g
Protein: 38.6 g
Fat: 24.7 g
Dietary Fibre: 10.3 g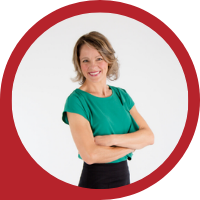 About Andrea Holwegner
CEO, Registered Dietitian, Counseling Practice Director & Professional Speaker
Andrea the «Chocoholic Nutritionist» is founder and CEO of Health Stand Nutrition Consulting Inc. since 2000. She is an online nutrition course creator, professional speaker and regular guest in the media. Andrea is the recipient of an award by the Dietitians of Canada: The Speaking of Food & Healthy Living Award for Excellence in Consumer Education....Read more