Best Vegetable Dip Ever
Make this cool and creamy dip at home to enjoy for a healthy snack
As the snow melts and the grass turns green, I find myself craving fresh crunchy vegetables more than usual. And to make this healthy snack more appealing to everyone in the family, I make the best vegetable dip ever to serve with the veggies I have pre-cut and ready to serve through the week. This make ahead dip is so much tastier than most store-bought dips and with only five simple ingredients it can be made in minutes. 
Makes six servings.  
What you Need 
1 cup sour cream 
1/3 cup mayonnaise or salad dressing 
Splash of worcestershire sauce 
4 tbsp finely chopped fresh dill (or 1 tbsp dried dill) – or more if you like! 
1/8 tsp onion powder 
How to Make the Best Vegetable Dip Ever
Stir together sour cream, mayonnaise or dressing, worchestershire sauce and onion powder.  
Remove stems from dill, wash fronds and chop finely.   
Add dill to sour cream mixture and mix well.  
Refrigerate until ready to serve.  
Enjoy this dip with your favorite vegetables such as carrots, snap or snow peas, cherry or grape tomatoes, celery, cucumbers, cauliflower, broccoli and more!  
Put leftover dip in a small container and toss it in with a packed lunch for a healthy snack.  
If you have leftover dill, prep and chop it like you did for the recipe and store it in a baggie in the freezer until ready to use in this recipe, or to toss in soups or stews.  
Nutritional Information
153 Calories 
4 g Carbohydrates 
3 g Protein 
14 g Fat. 
0.3 g Fibre 
What are your favorite vegetables to serve with dip for a snack, and are you starting seeds to grow any of them in your garden this summer?  
Looking for more simple meal planning tips and healthy recipes for a healthier lifestyle? Sign up for our weekly newsletter for a healthy recipe of the week (and nutrition articles and videos with a balanced living philosophy to help encourage healthy habits but still save room for your favorites). Our nutrition newsletter is written by the Online / Calgary Nutritionists on our team who each hold a professional Registered Dietitian license to ensure you are getting credible advice.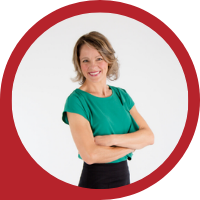 About Andrea Holwegner
CEO, Registered Dietitian, Counseling Practice Director & Professional Speaker
Andrea the «Chocoholic Nutritionist» is founder and CEO of Health Stand Nutrition Consulting Inc. since 2000. She is an online nutrition course creator, professional speaker and regular guest in the media. Andrea is the recipient of an award by the Dietitians of Canada: The Speaking of Food & Healthy Living Award for Excellence in Consumer Education....Read more