Healthy Breakfasts for Time-Strapped Families
Healthy Breakfasts for Time-Strapped Families
Paige and Trevor were already starting to dread the thought of back-to-school. The morning rush to get their three kids fed with something healthy and out the door on time was always a battle. In the rush, Trevor often skipped breakfast and Paige felt guilty that what she was eating and feeding her kids was far from optimal.
With a small amount of planning, however, and the acknowledgment that their choices just needed to be rounded out with a few other foods, mornings became much less stressful.
A recent poll of more than 800 Canadian parents by Ipsos Reid, on behalf of Breakfast Cereals Canada, found that six out of 10 moms and dads rank mornings as the most stressful time of the day.
While 93 per cent of parents polled say making sure their family eats breakfast is a priority, 60 per cent (75 per cent in Alberta) don't eat breakfast on some or all days of the week. According to the poll, the biggest issue was the time breakfast takes to prepare.
Eating a balanced breakfast boosts your energy, helps you achieve good levels of essential nutrients such as vitamins, minerals and fibre, and can help you manage a healthy weight. And, research has established that breakfast helps kids with school performance and mental alertness.
Role modelling is key when it comes to healthy eating habits. If you skip breakfast, don't be surprised when your kids start to pick up this bad habit over time.
Below are fast and healthy breakfast choices that worked great for Paige, Trevor and their kids. For more ideas and to see how you compare to the parents in the above poll, visit morningcrunchtime.ca.
Five kid-friendly breakfasts for the car or bus
1. Yogurt parfaits: After supper, line your counter with one reusable container per person filled with yogurt. Top with fresh or frozen berries (or try canned unsweetened pineapple, fresh or frozen mango or dried fruit; then refrigerate. In the morning, add granola, muesli or your favourite ready-to eat breakfast cereal. Consider adding ground flax seeds, hemp seeds or your favourite nuts.
2. All-in-one crunch mix: Line up a bunch of your plastic containers on the counter and have your kids fill them with a mix of dried fruit (such as raisins, dried cranberries, dried figs, dates, prunes, dried apricots), nuts or seeds (such as almonds, pecans, walnuts, cashews, peanuts, pumpkin seeds or sunflower seeds) and a mix of ready-to-eat breakfast cereal.
3. Breakfast-in-a-mug: The night before, leave the blender and travel mugs on the counter, ready to go. In the morning blend a smoothie with milk, yogurt, dry ready-to-eat breakfast cereal, fresh/frozen berries and banana.
4. Trio fun pack: Once per week, boil up hard-cooked eggs (these last in the fridge for up to one week), slice a block of cheese and portion into single servings. In the morning toss the peeled egg and cheese into a container with whole grain crackers and add an easy-to-grab fruit.
5. Roll-it-up theme: Start with a whole-wheat pita or wrap, spread with your favourite nut butter and roll around a banana, pear slices or apple slices.
Five speedy family breakfasts for home
1. Traditional: The night before, put all the bowls, spoons and boxes of cereal on the table. As kids get older they can serve themselves and all you need to do is ensure they have milk and fresh fruit.
2. Make-ahead cheesy eggs: Once per week after supper, cook up enough scrambled eggs for several breakfasts in a row for the whole family. Add your favourite sauted veggies and diced ham (optional). Reheat and serve on whole-wheat English muffins or in a wrap with grated cheese and salsa.
3. Big batch oatmeal: On the weekend, cook a triple batch of oatmeal that feeds the family (just make it runnier than usual, since it sets firmer) and reheat as needed. Top oatmeal with fruit and milk.
4. Breakfast popsicles and muffin theme: On the weekend, bake a double batch of muffins and freeze. Also make breakfast popsicles ahead by inserting a popsicle stick into a banana, smearing with nut butter and rolling in crushed ready-to-eat breakfast cereal. Freeze.
5. PB&J French toast or pancakes: Make a giant batch of French toast or pancakes on the weekend and serve leftover (hot or cold) with peanut butter and jam and a fresh fruit.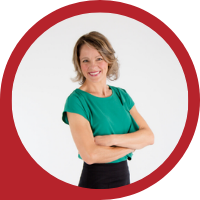 About Andrea Holwegner
CEO, Registered Dietitian, Counseling Practice Director & Professional Speaker
Andrea the «Chocoholic Nutritionist» is founder and CEO of Health Stand Nutrition Consulting Inc. since 2000. She is an online nutrition course creator, professional speaker and regular guest in the media. Andrea is the recipient of an award by the Dietitians of Canada: The Speaking of Food & Healthy Living Award for Excellence in Consumer Education....Read more