Breakfast ideas with a twist
Breakfast ideas with a twist to start the day off right and reduce the risk of diabetes
Suzanna, 49, hadn't been a breakfast eater since she was a teenager. She was certainly not a morning person and never felt hungry until about lunchtime. As she was struggling with obesity and creeping blood sugars, her doctor warned her that without some significant changes she would end up with Type 2 diabetes similar to her dad. She knew she needed to make some changes to get her health on track, and this included tackling breakfast.
Research shows that the benefits of taking time to eat a balanced breakfast are worthwhile for all ages. Breakfast gives your brain the essential energy it needs for a full day ahead, and breakfast eaters tend to struggle with their weight less than breakfast skippers. A large number of observational research studies also show that people who regularly eat breakfast also may have higher intakes of fibre, vitamins, calcium and other minerals, as well as lower intakes of fat and total calories. And there's more.
A May 2012 article published by Mekary and colleagues in the American Journal of Clinical Nutrition shows that simply eating breakfast may also decrease disease risk. The researchers reviewed the eating patterns of more than 29,000 men that were followed for 16 years. Skipping breakfast resulted in a 20 to 25 per cent increased risk for developing Type 2 diabetes.
Build a balanced breakfast
As Suzanna learned, the key to starting the day out right is to ensure you have a combination of carbohydrates needed for brain satisfaction and protein needed for fullness. The easiest way to think about breakfast is to ensure you have the following three components:
1. Grains/starches such as whole-grain toast, high-fibre breakfast cereal, oatmeal or leftover pasta, rice or other grains from supper.
2. Fruits/vegetables such as fresh fruit, canned unsweetened fruit, dried fruit, frozen fruit or even raw or cooked veggies if you prefer.
3. A source of protein, such as eggs, nuts, nut butter, cheese, cottage cheese, yogurt, milk, soy milk, protein powder, tofu, meat, poultry or seafood.
Breakfast ideas with a twist
Looking for some breakfast ideas? Here are three common breakfast themes with a traditional option and a few new ones with a twist.
Yogurt parfaits:
– Traditional: vanilla/fruit yogurt, granola and fresh/frozen berries
– Tropical: plain yogurt, diced fresh/frozen thawed mango and fresh/canned unsweetened drained pineapple topped with sliced almonds and bran cereal.
– Banana split: plain/vanilla yogurt, sliced bananas, sliced strawberries and crushed peanuts.
Hot cereals:
– Traditional: rolled oats, diced apples and raisins served with brown sugar and milk.
– Pumpkin porridge: rolled oats, canned pumpkin, raisins, milk/soy milk, cinnamon, vanilla, peanut butter/nut butter served with brown sugar or maple syrup (see side bar for recipe).
– Cranberry crunch: steel cut oats, dried cranberries and cinnamon; top with toasted pecans/almonds/walnuts, milk and maple syrup.
Eggs:
– Traditional: scrambled, poached, boiled or pan-fried eggs with whole grain toast and fresh fruit.
– Mexican: whole grain tortilla wrap stuffed with scrambled eggs made with ham (optional), onions and red peppers topped with grated cheddar cheese and salsa.
– Greek: whole-wheat English muffin with a pan-fried egg, sauteed spinach with onions and olives and topped with feta cheese.
Recipe: Rise and Shine Pumpkin Porridge
Starting your day off with a warm bowl of oatmeal not only tastes fantastic but will boost your fibre intake and protect against heart disease. Here is a hearty protein-rich variation with added pumpkin to boost your beta carotene intake.
What You Need:
1 cup (250 mL) skim milk or soy milk
1/2 cup (125 mL) canned pure pumpkin (see Cook's Note)
4 tbsp (60 mL) raisins
1 tsp (5 mL) pure vanilla extract
1/4 tsp (1 mL) cinnamon
1 cup (250 mL) rolled oats
1 tbsp (15 mL) peanut butter or other nut butter
In a pot on the stove, combine milk, pumpkin, raisins, vanilla and cinnamon and bring to a gentle boil.
Stir in oats and reduce heat until oatmeal is soft and creamy, then add peanut butter or nut butter.
Serve with milk and top with brown sugar or maple syrup.
Makes 2 large servings.
Cook's Note: Canned pure pumpkin is unsweetened and not the same as pumpkin pie filling. To check if you have the correct one, review the ingredients and confirm that pumpkin is the only ingredient.
Nutrition Information Per Serving: Calories 365, Carbohydrates 60.6 g, Protein 14.3 g, Fat 7.7 g, Dietary Fibre 8.1 g
—
Andrea Holwegner, B.Sc., R.D., is The Chocoholic Dietitian and owns Health Stand Nutrition Consulting Inc. in Calgary.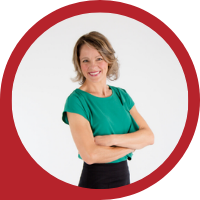 About Andrea Holwegner
CEO, Registered Dietitian, Counseling Practice Director & Professional Speaker
Andrea the «Chocolate Loving Nutritionist» is founder and CEO of Health Stand Nutrition Consulting Inc. since 2000. She is an online nutrition course creator, professional speaker and regular guest in the media. Andrea is the recipient of an award by the Dietitians of Canada: The Speaking of Food & Healthy Living Award for Excellence in Consumer Education....Read more