Broccoli and Sun-Dried Tomato Frittata
Created by the Egg Farmers of Canada
Makes 6 servings
Prep: 15 min.
Cook: 15 min.
What you need:
8 sun-dried tomatoes (dry-packed)
10 eggs
1/2 cup milk (1%)
1 tsp dried basil
1/8 tsp salt
1/8 tsp pepper
2 cups chopped cooked broccoli
3/4 cup shredded low fat Cheddar cheese or Swiss cheese
How to prepare:
Soak dried tomatoes in small bowl in very hot tap water until softened, 10 to 15 minutes. Drain and chop.
Whisk eggs, milk, parsley, basil, salt and pepper in large bowl until just blended. Stir in tomatoes and broccoli.
Heat 10-inch (25 cm) ovenproof skillet over medium heat. Spray with cooking spray. Pour in egg mixture. Cook, lifting edge occasionally to allow uncooked egg to run to bottom of skillet, until eggs are almost set but still moist on the surface, about 8 to 10 minutes. Sprinkle cheese over top. Place under broiler until cheese melts, 2 to 3 minutes, or cover with lid and cook for another minute to melt cheese.
Frittata may be served hot, warm or cold. Cut into wedges to serve.
Notes:
Handle of skillet can be oven-proofed by wrapping in double thickness of aluminum foil.
Per Serving:
Calories 183
Fat 10 g
Saturated Fat 3 g
Trans Fat 0 g
Sodium 334 mg
Carbohydrate 8 g
Fibre 2 g
Sugars 3 g
Protein 16 g
Recipe used with permission from the Egg Farmers of Canada. Visit www.eggs.ca for more great recipes.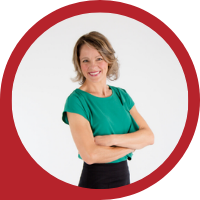 About Andrea Holwegner
CEO, Registered Dietitian, Counseling Practice Director & Professional Speaker
Andrea the «Chocoholic Nutritionist» is founder and CEO of Health Stand Nutrition Consulting Inc. since 2000. She is an online nutrition course creator, professional speaker and regular guest in the media. Andrea is the recipient of an award by the Dietitians of Canada: The Speaking of Food & Healthy Living Award for Excellence in Consumer Education....Read more