Building a Healthy Breakfast: Runners need to start the day off right for the best results
By Andrea Holwegner BSc, RD "The Chocoholic Dietitian"
Breakfast means "break the fast" and is certainly one of the most important meals of the day to elevate your energy for the day ahead. Choosing to eat a balanced breakfast is one of the most important ways to help you reduce overeating later in the day and manage a healthy weight.
To help you simplify meal planning and improve your nutrition, think about building a breakfast that contains three things. First, include some grains or starchy foods such as toast or cereal which provide carbohydrates, fibre and other nutrients such as B-vitamins. These foods are high sources of carbohydrates to top up your blood sugars and give your brain energy. Carbohydrates are also important to provide your muscles with energy for your running training. Second, add fruits such as fresh/frozen/dried/canned fruit, unsweetened juice or vegetables. Fruits and veggies are top sources of vitamins, minerals and antioxidants that protect your body from injury, reduce illness and improve running recovery. Lastly, choose a source of protein to repair damaged muscle tissue from running workouts and to boost immune function. Protein is found in foods such as meat, poultry, fish, cheese, yogurt, milk, soy milk, eggs, nuts, seeds and legumes.
Looking for some ideas? Try these 10 healthy breakfast choices:
Oatmeal with dried fruit, nuts and milk or soy milk.
Whole grain tortilla wrap with nut butter rolled around a banana.
Reduced-fat bran muffin with cheese or cottage cheese and an apple.
Granola bar and a smoothie with fruit, yogurt and unsweetened juice.
Whole grain toast with scrambled eggs mixed with ham, red peppers and green onions.
High-fibre breakfast cereal with milk or soy milk and a grapefruit or orange.
Leftover pasta with tomato meat sauce and a glass of unsweetened juice.
Yogurt parfait with yogurt, fresh or frozen berries and granola.
Latte or tea latte and a snack bag of dried cereal, dried fruit and nuts.
Unsweetened applesauce as well as a toasted open faced cheese bun with sliced tomatoes.
Andrea Holwegner is president of Health Stand Nutrition Consulting Inc., media expert for theDietitians of Canada, professional speaker and independent consultant to Jugo Juice. To askAndrea your personal nutrition question, visit the "Ask the Dietitian" section of the Jugo Juicewebsite here:www.jugojuice.com.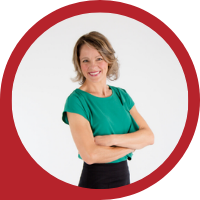 About Andrea Holwegner
CEO, Registered Dietitian, Counseling Practice Director & Professional Speaker
Andrea the «Chocoholic Nutritionist» is founder and CEO of Health Stand Nutrition Consulting Inc. since 2000. She is an online nutrition course creator, professional speaker and regular guest in the media. Andrea is the recipient of an award by the Dietitians of Canada: The Speaking of Food & Healthy Living Award for Excellence in Consumer Education....Read more