CAFFEINE 101 – How much is too much?
Healthier energy: cold brew iced coffees and matcha tea smoothies
We all love a good cup of morning brew or an afternoon pick-me-up with our favorite caffeinated beverage, but how much is too much and are some choices better than others? Find out the answers to these questions and how to enjoy caffeine without feeling guilty. Also, learn what ingredients go into the healthiest cold brew and matcha smoothies this summer that are much healthier options than traditional sugar-laden iced frappuccinos.
This blog post is sponsored by my client Jugo Juice www.jugojuice.com
What is caffeine and where do we get it?
Caffeine is a stimulant that stimulates the central nervous system.
It is found in coffee, tea, cocoa, chocolate and energy beverages and shots containing ingredients such as guarana (a Brazilian plant whose seeds are high in caffeine) and yerba mate (a South American herb used to make tea). You can also find caffeine in pills, some alcohol beverages and sports gels.
Watch Andrea on Global TV Morning News:
Estimated caffeine content of various foods and beverages  
1 cup (250 ml) brewed coffee: 100-170 mg
1 oz (30 ml) espresso: 40-90 mg
1 cup (250 ml) black tea: 40-80 mg
1 cup (250 ml) green, white or oolong tea: 25-50 mg
1 can of cola (355 ml): 30 mg
1 can of an energy drink (250-500 ml): 80-250 mg
1 milk chocolate bar (40 g): 10-15 mg of caffeine
1 dark chocolate bar (40 g): 25-40 mg of caffeine
1 cup (250 ml) chocolate milk: 3-5 mg
1 caffeine tablet: 100-200 mg
1 bottle sport energy shots: 100-150 mg
1 sport gel: 0-40 mg
Source: Canadian Nutrient File and product labels
What are some of the surprising health benefits of caffeine?
Contrary to popular belief drinking some coffee or having moderate caffeine in your diet as an adult may not be so bad after all.
Caffeine is, of course, best known for boosting mental alertness and helping lessen fatigue.
Since caffeine stimulates the central nervous system and increases alertness, it can be performance enhancing for athletes (especially endurance athletes in sports such as triathlon and cycling). Caffeine before or during sports can help delay fatigue, increase endurance and simply make an athlete feel like the exercise is less difficult overall.
Research has also shown that moderate coffee consumption (3-4 cups per day has been linked to a longer lifespan. Other research has found that coffee drinkers may have a lower risk of Parkinson's disease and Type 2 diabetes.
There has also been positive research specifically about green tea such as matcha green tea:
Research shows drinking green tea may be good for reducing heart disease, lowering the risk of cancer (such as prostate, breast and stomach cancer) and may improve cognitive function in older adults.
Green tea contains beneficial antioxidants that can help protect your cells from damage and prevent disease.
If you don't like coffee or tea that is not a problem, but if you do enjoy caffeine containing beverages there is no need to feel guilty if you consume these in a reasonable amount.
How much caffeine is too much?
HEALTHY ADULTS
Adults over 18 years of age are advised to have less than 400 milligrams of caffeine per day (6 milligrams per kilogram of body weight per day). This is the amount found in approximately two to three, 8-oz (250 ml) cups of coffee.
The above amount of caffeine has been studied in research for healthy adults and is NOT associated with adverse effects such as toxicity, changes in behavior, cardiovascular effects or increased incidence of cancer. This amount of caffeine also does not negatively influence your bone health as long as you are consuming enough calcium from foods and/or supplements.
Some people are more sensitive to caffeine than others. If too much caffeine is consumed it can cause insomnia, anxiety, irritability, rapid heart rate, stomach upset and headaches. 
If you are consuming too much caffeine, reduce your intake gradually to avoid uncomfortable symptoms such as fatigue and headaches.
PREGNANCY
Caffeine passes through the placenta to a baby and babies take longer to process caffeine.
Pregnant women are advised to consume less than 200-300 milligrams of caffeine per day.  This is the amount in about one or two 8-oz (250 ml) cups of coffee per day.
KIDS
Health Canada recommends kids age 12 and under consume no more than 2.5 mg/kilogram of body weight. Although weight is highly variable among children, this is approximately:
45 mg/day or less for kids aged 4-6 years
62 mg/day or less for kids aged 7-9 years
85 mg/day or less for kids aged 10-12 years

Although no current guideline for teenagers exist, a guideline of 2.5 mg/kilogram of body weight is also likely a good idea. 
Choosing the healthiest caffeinated beverages
If you are reaching for a caffeinated beverage or iced coffee/tea the BEST choices are those that have:
Ingredients your grandparents would recognize as food
Simple foods with labels that your kids can read
No added sugar
No artificial colors or flavors
Are blended fresh in front of you
What goes into the healthiest iced coffee or cold brew:
Start with milk, almond milk or coconut milk
Add an espresso shot or cold brew coffee

Cold brew coffee is made by grinding coffee beans coarsely and combining with cold water and letting it infuse overnight for about 12 hours and then straining. This allows a smooth flavor that is perfect for iced coffee. If making at home start with 1/4 cup of coffee beans steeped in 1 cup of water and adjust with more or less water depending on how strong you like it.

Add ice
Optional: Add some nutrition and natural sweetness with dates, banana, cinnamon or ginger.
Blend and enjoy!
What goes into a healthy cold matcha tea smoothie:
Start with unsweetened juice
Add fresh or frozen unsweetened whole fruit such as berries, peaches, dragonfruit, pineapple or apple.
Add some greens such as spinach, kale or fresh mint
Add pure unsweetened matcha green tea powder
Add ice
Blend and enjoy!
If you don't want to make one at home or are need a healthy energizing beverage on the run try the new line of Cold Brew Smoothies and Matcha Green Tea smoothies at Jugo Juice. You can count on the same simple ingredients and no added sugar just like you made it at home.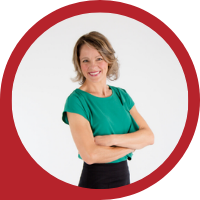 About Andrea Holwegner
CEO, Registered Dietitian, Counseling Practice Director & Professional Speaker
Andrea the «Chocoholic Nutritionist» is founder and CEO of Health Stand Nutrition Consulting Inc. since 2000. She is an online nutrition course creator, professional speaker and regular guest in the media. Andrea is the recipient of an award by the Dietitians of Canada: The Speaking of Food & Healthy Living Award for Excellence in Consumer Education....Read more