Calgary Herald – Nutrition challenges for generation X
Nutrition challenges for generation X
By Andrea Holwegner, Calgary Herald October 21, 2010
For generation X or those between 30 to the mid-40's, there are many nutrition challenges that emerge with "life in the fast lane." Hectic family schedules combined with hefty work commitments can make eating healthy and keeping active a challenge. The good news is that with a little awareness and some planning, you can have it all – a full life and the health you need to enjoy it.
Top 5 nutrition challengesfor generation X
1. Building a power plan for supper
One of the questions I have informally asked clients coming into my counselling practice is simply "what's for supper tonight?" I would estimate three-quarters of my clients had absolutely no idea and at the same time would wonder why supper was stressful for their family. I believe that one of the single most important questions you can ask yourself each morning is "what's for supper tonight?"
Alternatively if you are not a morning person or are too rushed in the morning then consider the night before asking "what's for supper tomorrow night?"
Chances are if you have an answer to this question your family's nutrition is off to a good start. Most of my clients find that if they can at least determine the protein source for the meal, the rest of the meal comes together quickly. For example, if you decide salmon will be for dinner and pull it from the freezer to thaw, when you get home its easy to add other components to balance the meal (such as rice, steamed veggies and a salad).
If you are a busy family, keep in mind that at the end of the day energy levels are often at their lowest and decision making can be poor. Often things in the freezer seem like they will take too long to thaw or you might skip important parts of the meal like veggies since it might sound like too much work.
 2. Making a healthy lifestyle a priority
According to a 2005 Ipos-Reid survey, 51 per cent of Canadians agree that "it's important to make healthy food choices, but find it difficult to do so" and 41 per cent find it hard to include healthier food options on a daily basis because their life is so hectic. I often hear people say things such as "when things slow down at work" or "when the kids are back at school and I'm not so busy" then I will have time to take care of my health.
The truth is, life never really slows down long enough to give us the time we want to make all the changes to our health that we want. There is no better time than now to start small changes to improve your health. Take a look at your to-do list and calendar for the week and see if you have allowed time and focus to prepare healthy meals and fit in fitness.
Some of the busiest people I know are also the healthiest. You can do it if you set small achievable goals and make a healthy lifestyle a priority for your family. No one said it was going to be easy. Choosing to be healthy takes time and effort but the payoffs in energy and vitality are big.
 3. Battling the bulge
Couple an age-related decline in metabolism with busier work and family commitments and you might be like many generation X Canadians that are battling their weight.
While there are many contributing factors that can explain why you might be carrying extra weight, there is one common nutrition factor we see day after day in our counselling practice. Many of our clients eat relatively healthy but simply eat too much. Food researchers suggest that we underestimate how much we eat by 20 to 40 per cent.
"Calories are king" when it comes to managing a healthy weight. Small shifts in daily quantities add up to be big calorie deficits over the long run. If you are trying to lose weight, think about reducing some of the higher calorie items you are eating each day by a small fraction. You will be surprised that you don't necessarily need to drastically change your eating habits to start to see the scale move.
 4. Boosting veggies, fruit and calcium rich foods
Approximately half of Canadians aged 31 to 50 years are below the minimum recommended number of servings of vegetables and fruit according to Statistics Canada in the Canadian Community Healthy Survey. This survey also showed that 65 per cent of males and 72 per cent of females aged 31 to 50 years are below the minimum recommended number of servings of milk and milk alternatives such as yogurt, cheese and calcium fortified soy milk per day.
Keep in mind the more variety, the more we eat. Researchers have termed this phenomenon "sensory specific satiety." What this means is that our senses such as sight, taste and smell get numbed and overwhelmed if they continually experience the same stimulus. Be sure to have a variety of options in your house to please everyone's taste buds and encourage you to eat more of the items you are falling short in.
One way to get more fruit into your diet is to choose fruit at breakfast and for snacks every day. Remember that outside of fresh fruit you can build your fruit servings up per day by choosing other options such as dried fruit, canned unsweetened fruit and smoothies.
If vegetables are falling short for you per day, try to make sure you have veggies in your lunch daily as well as two different types at supper. I recommend my adult clients to aim for half of their plate as veggies at supper time. I know for myself and my family if I was having steamed peas or green beans for supper I likely would not have a half a plate of them. Therefore if you are like me, you would benefit from having a second option such as a salad or sliced tomatoes and cucumber.
 5. Lowering fats
Statistics Canada in the Canadian Community Healthy Survey found that over a quarter of Canadians aged 31 to 50 get more than 35 per cent of their total calories from fat, the threshold beyond which health risks increase, according to the Institute of Medicine.
Adults get almost a third of their fat from the meat group and about a quarter from "other foods" such as sweet baked goods and salty snacks.
On a given day, a quarter of Canadians, adults and children alike, eat something that was prepared in a fast-food outlet. What this means is that cooking more meals at home, choosing leaner meats and less high fat snack foods and fast food would serve you and your family well.
Resources for more information on nutrition:
For more information on personalized nutrition counselling for your family, and to subscribe to a free monthly ezine loaded with practical nutrition tips, articles and recipes visit: www.healthstandnutrition.com.
For comments on this article and to ask Andrea your top nutrition questions visit her blog at www.healthstandnutrition.com/blog/.
Andrea Holwegner, the "Chocoholic Dietitian" is founder and president of Health Stand Nutrition Consulting Inc., a member of the Canadian Association of Professional Speakers and a media expert for the Dietitians of Canada. Visithealthstandnutrition.com andchocoholicdietitian.com or phone 403-262-3466 for nutrition counselling, seminars and resources.
*****
 Grilled Lime Cumin Salmon
Salmon is a great source for heart and brain-healthy omega-3 fats.
1 lb. (500 g) salmon fillet (skin on)
Marinade:
3 tbsp (50 mL) olive oil
¼ cup (50 mL) lime juice
4 tsp (20 mL) Worcestershire sauce
1½ tsp (7 mL) ground cumin
1 tsp (5 mL) grated lime rind
2 minced garlic cloves
Pepper and salt to taste
Slice salmon into 4 to 6 pieces. Whisk together the marinade ingredients and marinate salmon. Place fillets (skin side down) on a greased grill, 4 to 6 inches (10-15 cm) from medium hot coals or on medium high setting. Grill fillets for 10 minutes per inch (2.5 cm) of salmon thickness, until it flakes easily with a fork and flesh is opaque. Baste frequently during cooking, using all the marinade. Flip fillets over halfway through cooking by placing one metal spatula under fillet and another on top.
Makes 4 servings.
Nutrition per serving: calories 271, carbohydrates 3 g, protein 29 g, fat 16 g, dietary fibre 0 g.
*****
 Marinated Vegetable Salad
This "make ahead" colourful, nutritious salad makes a quick addition to a lunch or supper meal.
Ingredients:8 cups (2 L) of your favorite veggies such as . . . broccoli, cauliflower, carrots, kohlrabi, red/yellow/green/orange peppers, purple/green cabbage, onion, snap/snow peas, white/purple onions
Your favorite oil and vinegar salad dressing or try this recipe for a basic vinaigrette:
4 tbsp (60 mL) canola oil
6 tbsp (100 mL) vinegar
1/4 tsp. (1 mL) dry mustard powder
2 Cloves garlic minced
2 tsp (10 mL) sugar
Pepper and salt to taste
Chop your veggies into bite sized pieces and place in a shallow dish or baking pan. In a separate bowl or jar mix up the ingredients in the vinaigrette and toss over top the veggies. Leave to marinate in the fridge up to a few days.
Makes 8 servings
Nutrition per serving: calories 163, carbohydrates 22 g, protein 6 g, fat 8 g, dietary fibre 6 g.
*****
 Hearty Hamburger Soup
This recipe makes a large batch of soup and is perfect for freezing in small containers for quick lunch and supper meals.1 lb (500 g) lean ground beef
1 medium onion (chopped fine)
1 can (28 oz.) tomatoes
1 can (19 oz./540 ml) lentils or any other type of beans drained and rinsed
1 can (10 oz.) tomato soup
8 cups (2 L) vegetable/beef broth
4 carrots (finely chopped)
3 sticks celery (finely chopped)
8 tbsp (125 mL) barley
2 medium potatoes (diced into small pieces)
Parsley
½ tsp (2 mL) thyme
Pepper
1 bay Leaf
Brown beef and onions and drain off fat. Combine all remaining ingredients in a large pot. Simmer covered for at least 2 hours. Note: you may need to add more water if soup seems too thick.
Makes 16 servings.
Nutrition per serving: calories 190, carbohydrates 22 g, protein 15 g, fat 5 g, dietary fibre 4 g.
*****
Thai Chicken Curry
Start with a cucumber salad and serve this curry over steamed rice for a flavorful balanced meal.
2 tbsp (25 mL) red curry paste (or more if you like it spicier!)
1 tbsp (15 mL) vegetable oil
1 ¼ lb (600 g) boneless, skin less chicken breast, cut into thin stir-fry strips
1 large onion, diced
1 sweet red pepper, cut into thin strips
1 cup (250 mL) snow peas, cut in halves
1 cup (250 mL) light coconut milk
1 tbsp (15 mL) fish sauce
1 tbsp (15 mL) reduced-sodi um soy sauce
1 tbsp (15 mL) fresh lemon juice
½ cup (125 mL) fresh cilantro, chopped (optional)
Heat curry paste and oil in a large nonstick pan.
Add chicken and stir-fry until cooked. Add onion and cook until softened.
Add red pepper and snow peas and cook for about one minute.
Add coconut milk, fish sauce, soy sauce and lemon juice and heat until boiling. Cook for another few minutes until liquid is thickened slightly.
Serve over rice and garnish with cilantro.
Makes 4 servings.
Nutrition per serving: calories 314, carbohydrates 10 g, protein 36 g, fat 13 g, fibre 1.6 g.
*****
Lasting Lunch Bean Salad
The fibre and protein from the beans in this tasty salad will keep you sustained all afternoon!1 can (19 oz./540 ml) black beans or your favorite beans, drained & rinsed
½ cup (125 mL) frozen corn kernels, cooked and cooled
½ cup (125 mL) grape toma toes
2 green onions, diced
1 red/yellow/orange pep per, diced
Dressing:
2 tbsp (25 mL) Olive oil
3 tbsp (50 mL) Vinegar
1/8 tsp (0.5 mL) Dry mustard powder
1 clove garlic minced
½ tsp (2 mL) Sugar
Pepper and salt to tastePrepare dressing. Place all the ingredients in a bowl. Stir in dressing.Makes 4 Servings.
Nutrition per serving: calories 298; carbohydrates 50 g, protein 13 g, fat 8 g, dietary fibre 11 g.
Note: You can also use your own favorite bottled vinaigrette dressing instead as a time saver.
*****
Spicy Szechuan Green Beans
These spicy beans are served with rice and grilled pork tenderloin or fish.
2 cloves garlic, minced
2 tsp (10 mL) fresh ginger, minced
1 tsp (5 mL) sesame oil
1 tsp (5 mL) canola oil
1 tsp (5 mL) red chili sauce (more if you like)
1 tbsp (15 mL) soy sauce
12 oz. (340 g) green beans
Steam green beans for 2 minutes. Meanwhile place all other ingredients into a saucepan. Add green beans and stir-fry until hot.
Makes 4 servings.
Nutrition per serving: calories 51, carbohydrates 7 g, protein 2 g, fat 2 g, fibre 2 g.
*****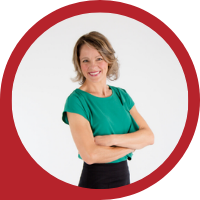 About Andrea Holwegner
CEO, Registered Dietitian, Counseling Practice Director & Professional Speaker
Andrea the «Chocolate Loving Nutritionist» is founder and CEO of Health Stand Nutrition Consulting Inc. since 2000. She is an online nutrition course creator, professional speaker and regular guest in the media. Andrea is the recipient of an award by the Dietitians of Canada: The Speaking of Food & Healthy Living Award for Excellence in Consumer Education....Read more