Can I Drink Coffee While Pregnant?
Is it safe to drink coffee during pregnancy?
The short answer is yes, if you want to, but in smaller amounts.  Drinking one to two cups of coffee per day during pregnancy is generally considered safe.
The issue with coffee, of course, is the caffeine.
Caffeine is a stimulant that is found naturally in coffee, tea, cocoa and chocolate. It can also be added artificially into drinks and foods. Caffeine can reduce tiredness and improve mental alertness but when taken in large amounts, can lead to insomnia. Too much caffeine can also make you feel jittery or anxious and cause a rapid heartbeat or headache.
During pregnancy, caffeine passes through the placenta to your baby. Your baby's body cannot process the caffeine as quickly as you do so babies can experience the same stimulating effects that occur when adults drink coffee. This means you might find that your baby is kicking and moving around more after your morning brew.
Based on scientific research it is recommended that pregnant woman consume less than 200-300 mg of caffeine per day. This will ensure caffeine does not have a negative effect on your baby. As a point of reference, it is recommended that non-pregnant woman and men consume less than 400 mg per day. Amounts above 300 mg of caffeine per day during pregnancy have been associated with smaller babies and has been blamed as a possible cause of miscarriage or premature birth.
How much caffeine do you get from coffee, tea and chocolate?
1 cup of cup can range from 60 mg to 150 mg, depending on how it is made. Instant coffee has the least amount of caffeine compared to percolated or filter drip which is higher
1 cup of tea can range from 20 mg of caffeine for weak tea and up to 100 mg of caffeine for strong tea
1 milk chocolate bar has about 10-15 mg of caffeine
1 dark chocolate bar can have about 40-50 mg of caffeine
You may find that your food preferences change dramatically during your pregnancy and might not even find your usual cup of coffee appealing.   If you do drink coffee, make sure to drink no more than two cups (500 ml) per day.
a version of this article appeared in Best in Baby Biz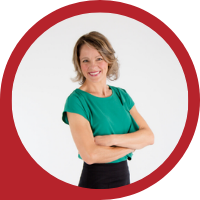 About Andrea Holwegner
CEO, Registered Dietitian, Counseling Practice Director & Professional Speaker
Andrea the «Chocoholic Nutritionist» is founder and CEO of Health Stand Nutrition Consulting Inc. since 2000. She is an online nutrition course creator, professional speaker and regular guest in the media. Andrea is the recipient of an award by the Dietitians of Canada: The Speaking of Food & Healthy Living Award for Excellence in Consumer Education....Read more