Chew on Healthy Habits
Nutrition for Good Oral Health
Nutrition Role for Dental Caries
Dental caries (commonly known as tooth decay or cavities), form when bacteria in the mouth ferment carbohydrates which creates acid which erodes tooth enamel.  Other factors that play a role in dental caries include low fluoride, low saliva levels and poor oral hygiene such as tooth brushing and flossing.
Carbohydrates are simply known as sugar.  You can think of grains and starchy foods such as pasta, rice, bread, potatoes and legumes as complex carbohydrates (long chains of sugar).  Table sugar, honey, candy, fruit and juice are simple carbohydrates (single or double units of sugar).
The longer carbohydrate containing foods stay in the mouth the greater the chance for cavities to form.  While many foods such as grains, starchy foods and fruit contain carbohydrates, these are healthy foods to consume and it is mostly concentrated sweets, pop, and sticky foods that are most worrisome for your teeth.
Top 10 Nutrition Strategies for Healthy Teeth
Here are some of the most important tips to think about when it comes to nutrition for preventing dental caries:
Eat every three to five hours and avoid constant grazing where food and drinks have a prolonged time to wash and stick on your teeth.
Limit candy and sugary drinks such as pop, energy drinks and sports drinks (especially those consumed without a straw).
Limit diet pop, which contains citric and phosphoric acid both of which may cause demineralization of tooth enamel.
Drink enough water throughout the day to prevent dehydration.  If you are dehydrated you may have decreased saliva.  Saliva acts as a natural defense shield to decrease acid attacks.
Brush your teeth and floss regularly.  Wait at least an hour after drinking an acidic drink  (such as juice, a sugary drink or diet pop) to brush your teeth to allow your saliva to begin the repair process.
For healthy carbohydrate containing beverages, such as unsweetened juice or fresh fruit smoothies, consider using a straw, which bypasses the teeth.
For healthy foods such as dried fruit or unsweetened fruit leather, which can stick in the teeth, eat alongside other foods with protein or fat (such as cheese) that protects the tooth surface from sugar.
When you are unable to brush your teeth after a meal consider chewing sugar-free gum containing xylitol and/or rinsing with water.
Consume dairy products, which keeps the saliva high in calcium and phosphorus to re-mineralize and prevents acid attacks.
Take a daily age appropriate multivitamin.  If you are pregnant take a prenatal supplement.
Top Snack Attacks!
Whole-wheat pita bread and hummus with red pepper and celery sticks.
Smoothie made with yogurt, frozen berries, banana and unsweetened juice or milk. Freeze leftover smoothies into popsicle cups for healthy homemade frozen popsicles.
Taco chips with bean dip (layer canned refried beans, avocado, salsa and top with grated cheddar cheese.
Hard cooked egg and raw veggies such as grape/cherry tomatoes, carrots, celery, broccoli, cauliflower, snow/snap peas with creamy yogurt dip.
Yogurt parfait with yogurt, berries (or alternatively try fresh or canned unsweetened pineapple or peaches) and granola.
Frozen grapes.  Serve with whole wheat crackers and Brie or cream cheese.
Mini bocconcini (fresh mozzarella cheese) and grape/cherry tomatoes on toothpicks.  Drizzle with balsamic vinegar.
Spread peanut butter or other nut butter on a banana and roll in crushed breakfast cereal.
Fresh fruit kabob with yogurt dip.
Bowl of hearty vegetable soup.
Homemade chips (cut up whole wheat pita or tortillas into triangles with scissors, spay or brush with oil and top with a sprinkle of salt and bake until crispy).  Serve with salsa.
Cottage cheese with sliced apples or pears with a sprinkle of cinnamon.
Banana bread or carrot muffins served with yogurt.
Mini pizzas made with mini whole wheat bagels or pita bread and tomato sauce, meat, veggies and cheese.
Mix almond butter or peanut butter with yogurt to make a runny dip for pretzels, celery sticks, banana or apple slices.
Recommended Resources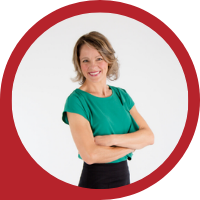 About Andrea Holwegner
CEO, Registered Dietitian, Counseling Practice Director & Professional Speaker
Andrea the «Chocoholic Nutritionist» is founder and CEO of Health Stand Nutrition Consulting Inc. since 2000. She is an online nutrition course creator, professional speaker and regular guest in the media. Andrea is the recipient of an award by the Dietitians of Canada: The Speaking of Food & Healthy Living Award for Excellence in Consumer Education....Read more