Chickpea, Sweet Potato and Spinach Roti Recipe
Chickpea, Sweet Potato and Spinach Roti Recipe
Sponsored recipe by:  Peanut Bureau of Canada
Quick, healthy and filled with protein, this veggie-packed roti is the perfect combination of flavours with just a hint of spice. This versatile meatless meal can be served wrap-style for lunch, or served atop rice or naan. More great recipes can be found at www.peanutbureau.ca.
Prep time: 10 minutes
Cooking time: 13 minutes
Makes 4-5 roti
What you need:
1 tbsp oil, preferably peanut
1 small onion, thinly sliced
2 cloves garlic, minced
1/2 to 1 tsp seeded and finely diced scotch bonnet pepper, or other hot pepper
1 large sweet potato, peeled and cut into small bite-sized chunks
1 tbsp curry powder
1/2 tsp EACH salt, dried thymes leaves, and ginger
1/4 tsp ground cloves
1 1/4 cup vegetable broth
1/4 cup peanut butter
1 can chickpeas (19 oz/540 ml) rinsed and drained
4 cups baby spinach, lightly packed
4-5 roti wraps, large flour tortilla, or naan bread
Directions:
Heat oil in large wide frying pan over medium heat. Add onion, garlic and hot pepper to taste. Cook 2 minutes, or until softened. Stir in sweet potato and spices.
Add 1 cup broth, stir in peanut butter until combined. Stir in chickpeas, then bring to a boil. Reduce heat, cover and simmer gently, 8-10 minutes, until sweet potatoes are just tender.
Add remaining 1/4 cup broth, and spinach. Simmer and stir just until spinach is wilted and liquid has mostly evaporated about 3 minutes. Cool slightly. Serve in a roti wrap or tortilla.
Per Serving:
Calories – 440
Carbohydrates – 63g
Protein – 16g
Fat – 15g (2.5g saturated fat)
Fibre – 9g
Cholesterol – 0g
Sugar – 6g
Sodium – 960mg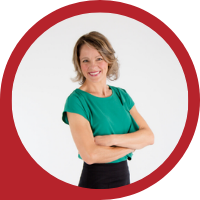 About Andrea Holwegner
CEO, Registered Dietitian, Counseling Practice Director & Professional Speaker
Andrea the «Chocolate Loving Nutritionist» is founder and CEO of Health Stand Nutrition Consulting Inc. since 2000. She is an online nutrition course creator, professional speaker and regular guest in the media. Andrea is the recipient of an award by the Dietitians of Canada: The Speaking of Food & Healthy Living Award for Excellence in Consumer Education....Read more