Chili Chocolate Peanut Butter Popsicles
Post sponsored by the Peanut Bureau 
Kick your snacking up a notch! Inspired by the Mexican heat, these popsicles – or palatas – bring together the classic combination of peanut butter and chocolate, with a spicy kick to your palate. For the little ones, the amount of cayenne pepper can be reduced. More great recipes can be found at www.peanutbureau.ca.
Makes about 8 popsicles (palatas)
Prep Time: 10 minutes
Freeze Time: 6 hours
What you need:
1 cup (250 mL) peanut butter
1/3 cup (75 mL) liquid honey
¾ tsp (4 mL) cayenne pepper
¼ tsp (1 mL) salt
1/3 cup (75 mL) unsweetened cocoa powder
1 cup (250 mL) milk
1 Tbsp (15 mL) peanuts, very finely chopped (optional)
How you prepare:
1. In a large (4 cup/1 L) measuring cup, stir peanut butter with honey, cayenne and salt. Stir in cocoa powder until smooth.
2. Very gradually whisk in milk, until mixture is smooth and milk is completely combined.
3. Sprinkle base of popsicle molds with peanuts. Pour peanut butter mixture into molds and insert popsicle sticks. Freeze until firm, about 6 hours.
Per serving:
Calories 290
Carbohydrates 23 g
Protein 9 g
Fat 18 g
Dietary Fiber 3 g
Sugars 15 g
Sodium 240 mg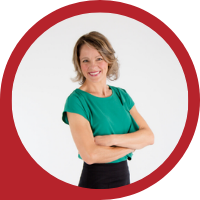 About Andrea Holwegner
CEO, Registered Dietitian, Counseling Practice Director & Professional Speaker
Andrea the «Chocoholic Nutritionist» is founder and CEO of Health Stand Nutrition Consulting Inc. since 2000. She is an online nutrition course creator, professional speaker and regular guest in the media. Andrea is the recipient of an award by the Dietitians of Canada: The Speaking of Food & Healthy Living Award for Excellence in Consumer Education....Read more