Banana Chocolate Chip Oatmeal Cookie Recipe
This dietitian-approved healthy cookie recipe is sure to please kids and adults. Pack them in your lunch or enjoy them as a healthy snack or dessert.

Makes 40 small cookies
What you need:
1 egg
1/2 cup butter
1 cup brown sugar
1 tsp vanilla
2 overly ripe medium-sized bananas
1 cup whole wheat flour
1/2 tsp. salt
1/2 tsp baking soda
3 cups oatmeal (dry quick rolled oats)
3/4 cup chocolate chips
How you prepare:
In a large bowl beat together the egg, butter, brown sugar, vanilla, and banana until well beaten.
Add the remaining ingredients and mix well.
Drop by rounded tablespoons onto baking sheets.
Bake 350F for 10-15 minutes until golden.
Nutrition information per cookie:
95 Calories
1.8 g Protein
14.1 g Carbohydrates
4.0 g Fat
1.5 g Fibre
This recipe is adapted from the recipe "Banana Oatmeal Cookies" from the book "Eating Light Eating Right" by Shauna Ratner and Frances Johnson.
Looking for more healthy eating recipes? Sign up for our weekly newsletter for a healthy recipe of the week (and nutrition articles and videos with a balanced living philosophy to help encourage healthy habits but still save room for your favorites). Our nutrition newsletter is written by the Calgary nutritionists on our team who each hold a professional Registered Dietitian license to ensure you are getting credible advice.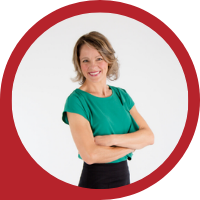 About Andrea Holwegner
CEO, Registered Dietitian, Counseling Practice Director & Professional Speaker
Andrea the «Chocoholic Nutritionist» is founder and CEO of Health Stand Nutrition Consulting Inc. since 2000. She is an online nutrition course creator, professional speaker and regular guest in the media. Andrea is the recipient of an award by the Dietitians of Canada: The Speaking of Food & Healthy Living Award for Excellence in Consumer Education....Read more