Cholesterol & Cardiovascular Disease
Cholesterol is a soft waxy substance made by our bodies. It is one of the lipids (fats) normally found in the blood and every cell of the body. We often associate cholesterol with health problems. In fact, cholesterol is a vital building block of cell membranes, hormones and vitamin D. Without it, our bodies couldn't function.
Cholesterol is transported in the blood in lipoproteins. Excess cholesterol carried in LDL (low density lipoproteins) is a major risk factor for atherosclerosis, also known as narrowing of the arteries.
In atherosclerosis, a sticky substance called plaque builds up on the insides of arteries (blood vessels that carry blood from the heart to different parts of the body). This build-up slowly clogs the arteries and damages their lining. The major component of plaque is cholesterol. As the arteries narrow and become damaged, the risk of circulation problems, angina, heart attacks and strokes increases. Click here to read more about Living With Cholesterol (Heart and Stroke Foundation)
Click here to read more about Food sources of cholesterol (Dietitans of Canada)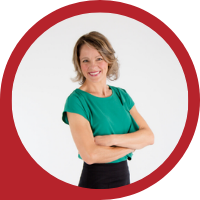 About Andrea Holwegner
CEO, Registered Dietitian, Counseling Practice Director & Professional Speaker
Andrea the «Chocoholic Nutritionist» is founder and CEO of Health Stand Nutrition Consulting Inc. since 2000. She is an online nutrition course creator, professional speaker and regular guest in the media. Andrea is the recipient of an award by the Dietitians of Canada: The Speaking of Food & Healthy Living Award for Excellence in Consumer Education....Read more