Chopped Chef Salad
Created by the Egg Farmers of Canada
  Shawn Harman – Section Seven Farms, Humboldt, Saskatchewan
Makes 6 Servings
Prep: 20 min.
Cook: 0 min.
What You Need:
6 cups (1.5 L) chopped or torn lettuce greens
1 medium carrot, thinly sliced
1 large tomato, diced
1 medium cucumber, sliced and slices cut in half
1/2 cup (125 mL) diced onion
7 oz chopped cooked turkey
1/4 cup olive oil
2 tbsp fresh lemon juice
1/2 tsp dried oregano
1/8 tsp salt
Pinch pepper
2 tbsp grated Parmesan cheese
4 eggs, hard-cooked and peeled
How You Prepare:
Place lettuce evenly on bottom of medium bowl (about 3 qt/3 L). Top with layers of carrot, tomato, cucumber, onion and turkey.
Whisk oil, lemon juice, oregano, salt and pepper in small bowl. Drizzle over top of salad. Sprinkle Parmesan cheese evenly over top.
Cut eggs into quarters. Place on top of salad.
To serve salad, scoop down to bottom of bowl to reach all the layers.
Notes: Instead of turkey, use chicken, ham or bacon. Or substitute additional vegetables such as celery, sweet pepper, mushrooms or zucchini. Try shredded or cubed Cheddar, Havarti, Swiss or Monterey Jack cheese in place of Parmesan. Substitute 1/3 cup (75 mL) of your favourite dressing for the oil and lemon juice mixture.
Per Serving:
Calories 197
Fat 14 g
Saturated Fat 3 g
Trans Fat 0 g
Sodium 440 mg
Carbohydrate 7 g
Fibre 2 g
Sugars 3 g
Protein 13 g
Recipe used with permission from the Egg Farmers of Canada. Visit www.eggs.ca for more great recipes.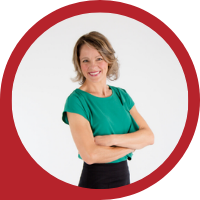 About Andrea Holwegner
CEO, Registered Dietitian, Counseling Practice Director & Professional Speaker
Andrea the «Chocolate Loving Nutritionist» is founder and CEO of Health Stand Nutrition Consulting Inc. since 2000. She is an online nutrition course creator, professional speaker and regular guest in the media. Andrea is the recipient of an award by the Dietitians of Canada: The Speaking of Food & Healthy Living Award for Excellence in Consumer Education....Read more