Creamy Tomato Sauce
Using canned evaporated milk lowers the fat and calories in this creamy sauce. Serve with pasta and a tossed salad.
Makes 6 servings
What you need:
1 tbsp olive oil
4 garlic cloves
1/2 tsp red pepper flakes (or more if you like it spicy!)
1 – 796 ml can of stewed tomatoes, diced
1/4 cup chopped parsley
1/2 tsp pepper
2 tbsp flour 1/2 cup parmesan cheese 1 can (385 ml) evaporated skim milk
How you prepare:
Heat oil in a heavy pot and add minced garlic and pepper flakes (be careful not to brown). Stir in pepper flakes and tomatoes. Cook for 15 minutes until the mixture thickens. Add parsley. Mix pepper, flour and parmesan cheese into evaporated milk and slowly add to tomato mixture. Serve over cooked pasta and sprinkle with parmesan cheese.
Per serving:
Calories 171
Carbohydrates 19 g
Protein 10 g
Fat 7 g
Dietary Fiber 0 g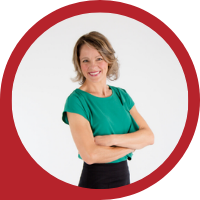 About Andrea Holwegner
CEO, Registered Dietitian, Counseling Practice Director & Professional Speaker
Andrea the «Chocolate Loving Nutritionist» is founder and CEO of Health Stand Nutrition Consulting Inc. since 2000. She is an online nutrition course creator, professional speaker and regular guest in the media. Andrea is the recipient of an award by the Dietitians of Canada: The Speaking of Food & Healthy Living Award for Excellence in Consumer Education....Read more