Easy Black Bean Quesadillas
This simple vegetarian quesadilla is a tasty option for a fast weekday supper meal. Loaded with good nutrition and plenty of fibre, black bean quesadillas are a favorite "Meatless Monday" supper and work great as leftovers for your lunch.
Makes 4 servings
What you need:
2 green onions, chopped (optional)
2 red peppers, diced
1 cup frozen kernel corn, steamed
1 can (19 oz) black beans, drained and rinsed 
4 large whole grain flour tortillas 
A pinch of ground cumin and chili powder (optional)
2 cups grated cheddar cheese
2 cups salsa 
How you prepare:
1. Sprinkle half of the grated cheese on two of the whole grain flour tortillas and place on a greased baking sheet or frying pan.
2. Chop green onions and red peppers and sprinkle on top the tortillas.
3. Steam frozen corn and sprinkle on top the tortillas.
4. Drain and rinse black beans and sprinkle on top the tortillas.
5. Add a pinch of cumin and chili powder for flavor (optional).
6. Top with remaining grated cheese and place the remaining tortillas on top.
7. Bake in the oven or pan fry until slightly browned and cheese is melted.
8. Serve with salsa (you can also serve with guacamole or sour cream for dipping).
Per serving
Calories: 6105; Carbohydrates: 69 g; Fat: 25 g; Protein: 28 g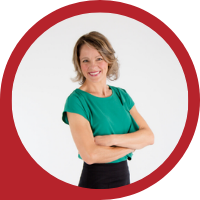 About Andrea Holwegner
CEO, Registered Dietitian, Counseling Practice Director & Professional Speaker
Andrea the «Chocoholic Nutritionist» is founder and CEO of Health Stand Nutrition Consulting Inc. since 2000. She is an online nutrition course creator, professional speaker and regular guest in the media. Andrea is the recipient of an award by the Dietitians of Canada: The Speaking of Food & Healthy Living Award for Excellence in Consumer Education....Read more