Travel for Work? How To Eat Well On The Road and at the Airport
Eating Out Tips for Healthy Travel
Listen to my previous QR77 Radio Interview on How To Eat Well On The Road When Traveling for Work
While you certainly don't need to strive for perfection, without careful planning, eating out regularly and travelling for work can be hard on your health and productivity.
If you travel regularly for work, here are some solutions that make eating out in restaurants and at the airport a little easier:
Reshuffle your restaurant plate
One of the ways many restaurants save money while ensuring customers leave with full bellies is by filling you up with starchy foods such as bread and excessive portions of rice, pasta and potatoes. In general, veggies, fruit and protein-rich food such as meat, poultry or seafood are more expensive than starchy foods.
Aim for half your plate to be veggies, one-quarter protein, and one-quarter starches. To get this plate balance right, you may need to request half the portion of starches, double the veggies and aim for a maximum of six ounces of protein. 
For many of our corporate travellers that eat out often sometimes the best strategy is to let your server know that you travel often and are looking for something more similar to a lighter meal you would have at home. Look at the menu as a shopping list of options that are available in the kitchen.  Sometimes it is easier to simply piece together a custom plate of items you saw from multiple entree items on the menu that fits a balanced plate than to try and modify one entree with a bunch of substitutions. 
Refocus your snacks
Travelling can make you more susceptible to justifying less nutritious choices because of loneliness, stress or fatigue. Corporate travellers also often say they are too busy and find it inconvenient to pack snacks.
Make grabbing snacks at the airport part of your travelling routine, just like checking in your flight. Early in the day at the hotel breakfast buffet, grab a piece of fresh fruit to go along with the nuts or protein bar you have stashed in your briefcase from home.
Choose to have a snack if it will be longer than 3-5 hours before you will eat again. This helps boost your concentration and interactions with others while preventing you from overeating later.
Looking for some healthy snack ideas at the airport?
Try these 10 snack options at the airport:
-Yogurt parfait (yogurt, berries and cereal)
-High-fibre, oatmeal or bran muffin and package of cheese
-Raw veggies and dip or salad and nuts
-Coffee-shop bento box of crackers, cheese/hummus and grapes/sliced fruit
-Fresh fruit/fruit salad/dried fruit bar and carton of milk/nuts
-Canned fruit cup/applesauce cup and cottage cheese/yogurt/ hard cooked egg
-Trail mix
-Protein bar or nuts and unsweetened juice
-Fresh fruit smoothie
-Coffee-shop latte, steamed milk or chai tea
Rethink what you drink
Travelling can contribute to dehydration and further decrease how you feel. Be sure to buy or bring your own water bottle since you likely won't drink enough by relying on what is served on the plane or at your meals.
Watch your consumption of alcohol which can further contribute to dehydration, stimulate your appetite and add extra calories.
Rework your perception of value
Some of my corporate clients associate value with an entitlement to gorge on expensive meals and wine picked up on the company credit card. For others, value is leaving a restaurant stuffed after cleaning a colossal plate of food.
Instead, consider value as having energy to thrive at work and in your personal life. Like many leaders and sales representatives, what may surprise you most is the change in your confidence at work, which stems from gaining control of your health and feeling good in your business attire.
When to be flexible
When it comes to eating out I personally live by the following philosophy or mantra:
"When on your own eat your best, for social fun have the rest."
It is more difficult (and certainly less fun) to make really healthy choices with your family on Friday pizza night, when going out for lunch with coworkers or for date night with your sweetie.
When you are on your own go for the nerdy nutritious choices. This means for your everyday workday breakfast, mid-afternoon snack on-the-go, eat your best. 
When you are eating socially, have some fun, be flexible, and go with the flow.  This is the time to enjoy soulful foods like chips and chocolate chosen exclusively for taste and enjoyment. 
You can eat anything, just not everything – it is about being intentional about your choices.
Need some personalized support for eating out because of travel for work?
We can help!
If you are seeking support to help to make meal planning simple if you are cooking for one, don't want to spend oodles of time in the kitchen or find yourself eating out often, we can help. We specialize in health without guilt or complexity. Our Calgary Dietitian / Registered Nutritionist team can work with you in person at our Calgary office or online through our virtual private and secure video conferencing services. Contact Us.
For more information about our Dietitian Calgary / Online Nutritionist services by our experienced nutrition counseling team visit: NUTRITION COUNSELING or our Digital Online Program The Pursuit of Healthiness: ONLINE NUTRITION COURSE.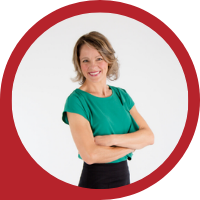 About Andrea Holwegner
CEO, Registered Dietitian, Counseling Practice Director & Professional Speaker
Andrea the «Chocolate Loving Nutritionist» is founder and CEO of Health Stand Nutrition Consulting Inc. since 2000. She is an online nutrition course creator, professional speaker and regular guest in the media. Andrea is the recipient of an award by the Dietitians of Canada: The Speaking of Food & Healthy Living Award for Excellence in Consumer Education....Read more