Eat With Abundance Before 4pm
By Andrea Holwegner, Health Stand Nutrition Consulting Inc.
If you adopt the practice of fuelling up every 3-5 hours you'll find that you will indeed consume most of your day's calories by 4pm.  The energy you gain from choosing to eat early and regularly will help you fight fatigue and gain crucial energy to focus for the day. 
If you eat a good breakfast at 7am then plan for a snack or lunch between 10 am and 12 noon.  If you eat lunch at noon but your schedule regularly warrants eating a late dinner around 7pm, you'll need to fuel up again mid afternoon.  If you don't, your energy will hit bottom sometime between 3 and 5pm – the most common time of day for energy (and will power) to be low. It's during this late afternoon slump that where we're most likely to reach for the unhealthy quick fix snacks in an attempt to jolt ourselves through the afternoon.  Even if you have the willpower to pass by the vending machine and wait to eat until you get home, by then you're probably so ravenous you may end up gorging on anything in sight, or consuming an extra large supper.  That's not good for the waistline or your energy balance.
Looking for a healthy summer snack?
Here are 3 of my favorites:
Plain yogurt mixed with a teaspoon of dark brown sugar and a few drops of vanilla topped with fresh summer berries (such as raspberries, blueberries and strawberries)
Frozen grapes (they taste like candies!) and cheese with whole grain crackers
Raw veggies (such as snap/snow peas, carrots, broccoli and mini tomatoes) and hummus
Thanks for reading!
Andrea Holwegner
"The Chocoholic Dietitian"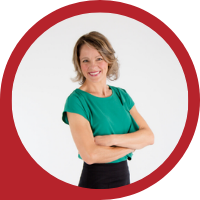 About Andrea Holwegner
CEO, Registered Dietitian, Counseling Practice Director & Professional Speaker
Andrea the «Chocolate Loving Nutritionist» is founder and CEO of Health Stand Nutrition Consulting Inc. since 2000. She is an online nutrition course creator, professional speaker and regular guest in the media. Andrea is the recipient of an award by the Dietitians of Canada: The Speaking of Food & Healthy Living Award for Excellence in Consumer Education....Read more