Eating Disorders Statistics
Research suggests that about one percent (1%) of female adolescents have anorexia. That means that about one out of every one hundred young women between ten and twenty are starving themselves, sometimes to death.
Research suggests that about four percent (4%), or four out of one hundred, college-aged women have bulimia. About 50% of people who have been anorexic develop bulimia or bulimic patterns.
Many surveys indicate that only about 10% of people with anorexia and bulimia are male. This gender difference may reflect our society's different expectations for men and women.
Click here to read more about Eating Disorders Statistics (Anorexia Nervosa and Eating Disorders Inc)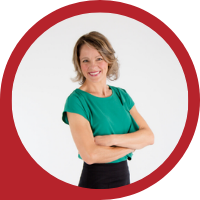 About Andrea Holwegner
CEO, Registered Dietitian, Counseling Practice Director & Professional Speaker
Andrea the «Chocolate Loving Nutritionist» is founder and CEO of Health Stand Nutrition Consulting Inc. since 2000. She is an online nutrition course creator, professional speaker and regular guest in the media. Andrea is the recipient of an award by the Dietitians of Canada: The Speaking of Food & Healthy Living Award for Excellence in Consumer Education....Read more