Eating Disorders
Eating Disorders
Eating disorders include many types of disordered eating patterns. Anorexia Nervosa, Bulimia Nervosa and Binge Eating Disorder are three types of eating disorders:
What is Anorexia?
People with Anorexia Nervosa either consistently restrict food or restrict and then binge and purge. Signs and symptoms may include:
Intense fear of gaining weight or becoming fat, even though underweight
Disturbance in the way that one perceives his or her body ie. Claiming to feel fat even when emaciated (distorted body image)
Weight loss to less than 85% of normal body weight
Refusal to maintain body weight over a minimal normal weight for age and height
Denial of the seriousness of the current weight loss
Absence of at least three consecutive menstrual cycles
What is Bulimia?
People with bulimia Nervosa may purge by self induced vomiting, by misusing laxatives, diuretics, or enemas (purging type), or by using other inappropriate compensatory mechanisms to prevent weight gain, such as fasting or exercising excessively (non-purging type). Signs and symptoms include: • Recurrent episodes of binge eating characterized by: eating an unusually large amount of food in a discreet period of time, and feeling out of control during an eating episode and unable to stop eating or control what and how much is eaten • Compensating for the food binge to prevent weight gain, such as induction of vomiting, misusing laxatives, enemas, or other medications and /or fasting or exercising excessively • Binge eating and purging, on average, at least twice a week for three months • Evaluating self-worth according to body shape and weight
Binge Eating Disorder
People with Binge Eating Disorder experience frequent episodes of out-of-control eating, with the same binge symptoms as those with Bulimia. The main difference is that individuals with Binge Eating Disorder do not purge their bodies of excess calories through purging. Therefore, many with the disorder are overweight. The Binge Eating episodes are associated with three of the following: • Eating much more rapidly than normal • Eating until feeling uncomfortably full • Eating large amounts of food when not feeling physically hungry • Eating alone because of being embarrassed by how much one is eating • Feeling disgusted with oneself, depressed, or guilty after overeating
What Do I Do?
If you are experiencing problems with food and/or are experiencing any of the above symptoms, or you suspect that a friend or loved one is experiencing the same symptoms, do not wait until medical problems arise. Anorexia, bulimia or other eating disorders can be life-threatening conditions that should not be overlooked. It is extremely important to help your loved one and seek emotional support as well as medical support. It is important to express your concern carefully, being careful not to mention weight or eating habits. In the instance that someone approaches you about an eating disorder, it is important to listen, be supportive and offer sympathy. Also, offer a list of professional resources. As a friend or acquaintance, you cannot cure a serious disorder without the appropriate medical expertise. This is why, as a friend, you can help this person seek medical help and guidance. Finding a Therapist and Registered Dietitian that specializes in eating disorders, is one way to offer a wonderful resource. Here is a list of local resources to consider:
Calgary Eating Disorder Program: Phone: (403) 943-7700 www.crha-health.ab.ca/eatingdis/
Calgary Counselling Centre: Phone: (403) 265-4980
Lois Sapsford – Juno Counselling and Consulting Private Practice Eating Disorder Therapist Phone: (403) 209-0997
Andrea Holwegner – Health Stand Nutrition Consulting Inc. Registered Dietitian Phone: (403) 262-3466 www.healthstandnutrition.com
Dr. Colleen Cannon Clinical Psychologist Phone: (403) 571-8680 www.colleencannon.com
Looking for further information? Body Image & Eating Disorder Websites:
About Face www.about-face.org
Academy for Eating Disorders www.aedweb.org
Alberta Mental Health Board www.amhb.ab.ca (Follow links from Community Services, to Children's Mental Health. Information on the Body Image Resource Collection can be accessed here).
National Association of Anorexia Nervosa and Associated Disorders (American site) www.anad.org
Body Positive www.bodypositive.com
Gurze Books www.gurze.com (Eating disorders publications).
Mirror Mirror  www.mirror-mirror.org
National Eating Disorder Information Centre www.nedic.ca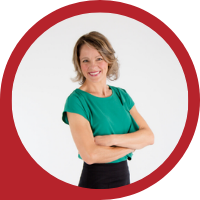 About Andrea Holwegner
CEO, Registered Dietitian, Counseling Practice Director & Professional Speaker
Andrea the «Chocolate Loving Nutritionist» is founder and CEO of Health Stand Nutrition Consulting Inc. since 2000. She is an online nutrition course creator, professional speaker and regular guest in the media. Andrea is the recipient of an award by the Dietitians of Canada: The Speaking of Food & Healthy Living Award for Excellence in Consumer Education....Read more