Elevate Your Energy
Nutrition ideas to tap into more oomph
By Andrea Holwegner RD, Health Stand Nutrition Consulting Inc. – for CBC.ca
What would YOU do with more energy? What would change in your work or personal life if you had more get-up-and-go? You may be like many people that inherently know that what you eat influences how you feel. So why then is it so hard to make healthy choices?
Despite the willingness to make healthful changes in their diet, half of Canadians find it difficult to do so. Forty-one percent of Canadians agree that their "life is so hectic they find it hard to include healthier food options on a daily basis."
Maybe you can relate to me… I often feel like I am juggling a big ball of fire between work, family commitments and trying to squeeze in time to eat well, keep active, relax and get enough sleep. Often the first thing to go when you get busy or stressed may be exercise and balanced nutrition. Ironically these are the things that help you manage all the chaos and pressures that life hands you.
Consider the following… you may have got used to running on 60, 70 or 80 per cent of your maximum energy and likely have forgotten what peak energy feels like. Chances are you may never have actually experienced what 100 per cent energy feels like and don't even know what you are missing. The good news is there are simple nutrition strategies you can start implementing today that can impact your energy substantially despite a busy schedule.
3 Tips to Triple Charge Your Energy:
#1 Eat Most of Your Food by 4pm
While various books and so-called health experts have varying opinions on meal and snack timing, what you really need to do is tune in and listen to your body…it really does know best. If you listen hard, your body will give you signals of hunger every 3-5 hours. Look for signs of true biological hunger such as a dip in focus or concentration, grouchiness or the stomach rumbles.
For example if you eat a balanced breakfast at 7am then somewhere between10am and 12noon you should be ready for a snack or lunch. If you eat lunch at noon and you have a schedule like mine that doesn't allow me to eat dinner until about 7pm – your energy will be flailing sometime between 3-5pm. This is the most common time of day for energy to be low. It is also the usual time of day when you may feel like reaching for a quick fix snack like a bag of chips, pop or chocolate bar in an attempt to make it through the afternoon. If you had the willpower to skip these and chose to wait to eat until you got home, you may have ended up gorging on anything in sight or consuming an extra large supper since by then it's been over six hours and your hunger was out of control.
If you really do eat every 3-5 hours what is interesting is that you will indeed eat most of your food by 4pm. Why is this important? If you consider that if you have a demanding day job at the office or are busy taking care of kids at home – you need most of your energy throughout the day. Funny enough the most common meals for people to skip are breakfast followed by lunch. These are the meals that help us fight fatigue and give us the crucial energy to focus and concentrate for the day. Ironically I haven't met too many people that skip supper when this is the meal that has the least influence on our energy (unless of course you do most of your work at night).
#2 Marry Carbs and Protein
Carbohydrates (carbs) are found in grains/starches such as bread, pasta, and rice along with fruits and veggies. You can think of carbs like "gasoline" to fuel the brain and muscles. Carbs are also comfort foods – they boost serotonin in the brain which boosts mood. If you have missed sufficient carbs in your meals your brain will not have the needed energy it needs to get you through the day.
Protein is found in food such as meat, poultry, seafood, dairy foods, eggs, nuts/seeds, legumes such as lentils, chick peas or black beans as well as soy foods such as tofu and soy milk. Protein provides fullness and sustained energy simply because it is slow to digest. If you have missed a source of protein in your meals you will feel highs and lows in your energy.
When you choose meals that are just carbs – you will likely only be full for 1-2 hours and your energy will be sporadic like you are on a rollercoaster. When you choose meals that have protein added you should be full for the 3-5 hours you are looking for. Meals and snacks that have both carbs and protein will keep your energy consistent through the day and help you feel like you are riding a train rather than a rollercoaster. Don't believe me? Take a test. Tomorrow have breakfast with only carbs such as toast with a fruit. Then, the next day have the same breakfast but now this time add a protein such as a slice of cheese, peanut butter, or even a latte! Did you know that one cup of milk or soy milk has more protein than an egg?
#3 Take the 10 Point Meal Challenge
At your breakfast, lunch and supper take my 10-point meal challenge. If you ate within one hour of waking or within 3-5 hours of your last meal you get 2 points already. If you had a grain or starchy food you can add another 2 points. Including a vegetable and/or a fruit will score you another 3 points and having a source of protein will add another 3 points. If you score 10 points regularly at your meals you are eating on time and finding an ideal balance of both carbs and protein that will be sure to boost your energy.
Andrea Holwegner — the Chocoholic Dietitian — is a registered dietitian and founder and president of Health Stand Nutrition Consulting in Calgary.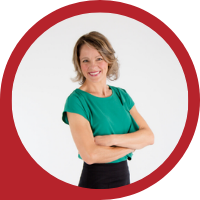 About Andrea Holwegner
CEO, Registered Dietitian, Counseling Practice Director & Professional Speaker
Andrea the «Chocoholic Nutritionist» is founder and CEO of Health Stand Nutrition Consulting Inc. since 2000. She is an online nutrition course creator, professional speaker and regular guest in the media. Andrea is the recipient of an award by the Dietitians of Canada: The Speaking of Food & Healthy Living Award for Excellence in Consumer Education....Read more