Employees Are What They Eat:
Corporate Employee Nutrition Programs
Companies With a Gold Star in Employee Nutrition
WATCH the Facebook LIVE video from April 11 here:
Employee productivity is one of the key factors businesses cite to improve profits and reduce costs. Studies repeatedly show that healthier, less stressed employees are more productive. Nutrition is one of the most important yet neglected components of health and safety initiatives and workplace wellness programs.
Nutrition has an immediate impact on employee performance.
Too often corporate wellness programs focus on fitness and
miss the benefits of improved nutrition. 
– Andrea Holwegner, BSc, RD
Employees typically eat at work – meals, snacks and beverages. The more employers invest in healthier employees, the better their return on investment. A Harvard Business Review study found that the ROI on comprehensive, well-run employee wellness programs can be as high as 6 to 1.
Half of Canadians (49%) find it challenging
to eat a balanced diet when they are busy. 
–Ipsos
Employee retention and job satisfaction programs often include food rewards and incentives such as unlimited coffee and sodas, pizza lunches or cupcakes and donuts at meeting and in the break room. While sweets and snacks can provide an immediate boost in energy, that boost is typically short-term – think 'sugar high' – and quickly results in a low energy slump and a reduction in productivity. Exactly what your business doesn't want!  
Unhealthful eating increases the risk of low productivity by 66%
– Population Health Management
A corporate wellness program that includes nutrition is likely to see improvements in employee health and productivity. Innovative organizations are incorporating nutrition into their wellness programs with the knowledge that a properly fueled workforce is good business… and good for business.
Not surprisingly, many tech companies are forerunners in employee nutrition programs. Their employee age tends to skew younger, and a younger workforce often prioritizes quality of life initiatives – and tech companies often have younger CEOs and leadership who recognize the bottom-line benefit of a healthier workforce.
Workplace nutrition initiatives aren't just for big business. Organizations with limited resources have created creative healthy eating programs that factor in criteria such as remote employees, long work days, and highly competitive fields. These companies are leading the way in workplace employee nutrition initiatives – and following my principle, Live Deliciously!
Facebook
CEO Mark Zuckerberg believes that employee performance is influenced by environment, and that stress is a major contributor to workplace burnout and stress. Facebook's wellness program includes a nutrition element:
Food breaks should be work-free to allow employees to de-stress.
Sitting all day is not good, so food breaks should be taken away from the employee's desk.
Healthy food should be an option, but not a mandate.
Facebook's NYC office houses Desimone, an on-site employee cafeteria that serves brain food — dark leafy greens, fruits, vegetables and lean protein, which studies have shown can increase workers' thoroughness when eaten in the right ways – along with wide assortment of ethnic, casual and fun menu items. While Desimone encourages healthy eating, it doesn't mandate it and offers a wide variety of foods. Desimone's Chef Nathaniel Eckhaus says, "All businesses are looking for ways to increase productivity, recruit the best and offer a benefit that the employees will perceive as a huge benefit. Why not cross all three off the list in one single swipe and do it through food?"
Ericsson Canada
Ericsson recently added a nutrition module to its online e-wellness program. E-Health connects to a free app called MyFitnessPal, which allows users to scan the products they consume and enter details about their daily eating habits, and provides employees with information and tips. "For somebody who's just starting off on this road to well-being and focusing on a healthy lifestyle, they don't look at nutrition labels, they don't track their food, so they really have no idea how many calories they take in on a daily basis. Or when they think they're splurging, they don't really know how much of a splurge it is really," says program director Susanne Gensch.
E-Health rewards employees with credits that can be used to purchase items and rebates on gym memberships. The nutrition module is promoted on on-site employee TV screens and internal social media.  
Dropbox
Dropbox is known for easy saving and sharing of documents – and wanted to make it easy for employees to have easy healthy meals. Onsite cafeteria Tuck Shop offers healthy, delicious meals – breakfast, lunch and dinner – and never repeats a dish. Chef Brian Mattingly sources sustainable fish and hormone-free, nitrate-free meats and works with local food producers.
Dropbox fully understands the need to integrate fun foods into their corporate culture too: every new employee is awarded a DIY cupcake kit: a gluten-free, vegan-friendly, make-in-a-microwave-because-I-want-to-eat-it-right-now cupcake. (I'd like to of course see them expand to additional fun yet healthier options such as a DIY PB&J oatmeal kit for breakfast (jars of rolled oats, hemp hearts, peanut butter package, jam package and dried fruit).
Google
Google uses behavioral science and social engineering to encourage employees to make thoughtful nutrition choices. With 24 hour cafés and mini kitchens stocked with nutritious, color-coded meals; smaller plates to help with portion control; and snacks like trail mix, fruits and nuts; Google seamlessly, almost invisibly, promotes healthier eating.
Google is also part of an international sustainability project to encourage people to eat more plant based options – and starting with the food it serves it's employees. Plant "power dishes" developed by Google's chefs nudges people to make healthier choices and Googlers are 71% more likely to eat healthier at work than outside of it. 
Wegmans Food Markets
Wegman's employee fitness challenge Eat Well. Live Well. focuses on:
walking 10K steps each day
eating 5 cups of fruits and vegetables a day
Over 25% of their 40,000 employees participate in the challenge. Wegmans believes what their employees eat influences how they feel, and provides healthy food coupons, pedometers, information, resources and recipes to motivate and inform employees and their families.
 Allstate Insurance of Canada
Allstate Insurance addressed the challenge of a mainly remote workforce. Award-winning Healthy Workplace Strategy has an integrated, 4-point strategy to wellness:
Nutrition
Financial
Physical
Mental
Meal planning seminars, healthy recipes and a program that rewards participation on an individual basis are core to the nutrition program. Allstate promotes leading by example, and encourages senior leadership to model healthy behaviors to their teams.
How to Implement a Healthy Eating Program
Employee nutrition programs can start small, and different sized companies can offer simple solutions to encourage their workforce to eat healthier:
Amazon offers free bananas to all employees on its main campus.
Meatless Mondays are a popular feature in many workplace cafeterias.
 A paid app called Zipongo encourages healthy eating in the workplace and has been adopted by companies including IBM.
 Install refrigerators and microwaves for employees to bring their own healthy meals and beverages from home.
Provide healthy food options such as fresh fruits, raw veggies and hummus, salads, yogurt parfaits, cheese and veggie trays, fresh fruit smoothies as well as sparkling water and hot/cold unsweetened tea when ordering for staff meetings and events.  
The Society for Human Resources Management (SHRM) conducted a survey on healthy eating in the workplace and found that while almost 50% of employers offer nutrition programs, more than 2/3 of HR professionals feel it is not their job to police employee's food choices. The poll also found that 97% of employees do want healthy food choices at work:
"Ultimately, the proactive approach to creating both formal and informal initiatives that support health and wellness, has been shown to have positive impacts on employees' lives and organizations' bottom lines."

When starting an employee nutrition program in your workplace, consider the following:
 Encourage and educate, don't mandate healthy eating.
Incorporating nutrition programs in the workplace should be voluntary in order to have achieve lasting results.
 Incentives get results.
Reinforce nutrition values through peer groups, leading by example and programs that provide motivation for employees to make healthy food choices, such as competitions and rewards for changes.
 Stress management and wellness programs provide balance.
Healthier, happier employees create a corporate culture that values a healthy lifestyle.
Benefits Beyond Work
The benefits of educating employees about healthy food options extends beyond the work day: those employees bring their newfound knowledge home and make heathy food choices for their family. They choose restaurants that offer healthier menus. They shop at stores favoring healthier foods versus convenience foods. Not only do employee nutrition programs improve the health of today's employees, they can improve the health of the next workforce generation.
The bottom line is, healthier employees can improve the bottom line of your organization.
Looking for further assistance with developing your employee nutrition program?  Contact us
How does your workplace rate with nutrition?
Download our Workplace Nutrition Scorecard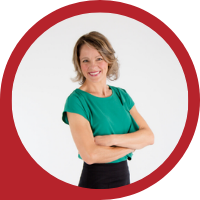 About Andrea Holwegner
CEO, Registered Dietitian, Counseling Practice Director & Professional Speaker
Andrea the «Chocoholic Nutritionist» is founder and CEO of Health Stand Nutrition Consulting Inc. since 2000. She is an online nutrition course creator, professional speaker and regular guest in the media. Andrea is the recipient of an award by the Dietitians of Canada: The Speaking of Food & Healthy Living Award for Excellence in Consumer Education....Read more